There is no shortage of comprehensive wedding emergency kit lists out there in the old world wide web. BUT! How about if you are getting married on the beach, or having a destination wedding somewhere hot and tropical, like here in the Riviera Maya of Mexico? There are definitely some emergency kit items that are specific to a beach wedding. Here are our top ten must have's that you need with you on your wedding day!

1. Bug Spray
Yes, this stretch of paradise from Cancun to Tulum is impossibly beautiful, BUT, paradise comes with a price, and that price is BUGS! Big bugs, little bugs, bugs that bite—they are everywhere! Don't be serving up Bride to the mosquitoes for dinner! Keep those suckers at bay by keeping the bug spray close at hand.
2. Travel Sized Sunscreen
Another smart spray to keep on hand is sunscreen. If Mother Nature smiles on your wedding day, then the sun will be shining, and its rays are intense on the beach in Mexico. Go for a super high SPF, spray preferably, and something that dries instantly for quick & easy application.
(We love these adorable personalized sunscreen wedding favors. Toss them in your welcome bags so that everyone is protected!)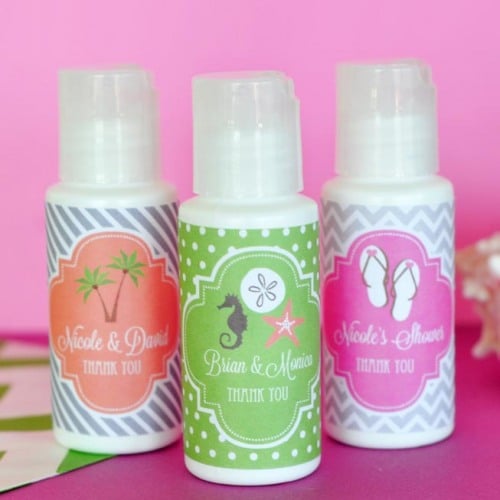 3. Travel Sized Hairspray Serum
Invest in a good quality, anti frizz solution for your hair. Your locks may look gorgeous when you step out of an air conditioned room, but the high humidity of our Cancun climate can make your Disney princess Do look more like the Bride of Frankenstein.
4. Bottled Water (With Straw)
It's always hot in the Mayan Riviera, no matter what time of year you're getting married here. Dehydration will kick your butt, so ALWAYS have a bottle water with you. On your wedding day, don't forget to include a straw so that you can still sip after applying lipstick.
5. Pain Relief Meds
Destination weddings are as much about the wedding as they are about the vacation with your friends and family. If your wedding guests are anything like my wedding guests were…well…you'll be needing to keep a little pain relief on hand as a defense against all the late night festivities!
Download our FREE Guide To Getting Married In The Riviera Maya
6. Anti-Diarrhea Meds
Let's just get this one out of the way. You're getting married in Mexico. You plan to eat and drink while you're here. Pack the Immodium. 'Nuff said.
7. Hand Held Fan
Hopefully, you are smart and have opted for beach wedding dress that is light, flowy and made from a breathable material. But realistically, any amount of clothing over and above a bikini, can be torturous in the heat of the Riviera Maya! Stash a sturdy little fan to give yourself a tiny bit of breezy relief on a hot wedding day.
(Better yet, give your wedding guests one of these personalized hand-held fans to use during your ceremony and take home as a souvenir!)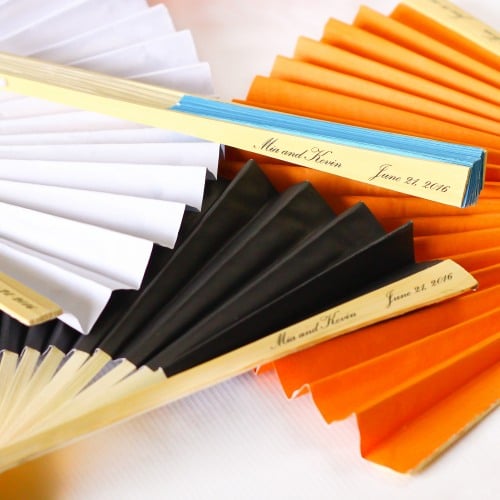 8. Blotting Pads
There's no avoiding it. You ARE going to sweat at a Caribbean beach wedding, wrapped up in layers of wedding dress fabric, and full of nervous excitement! Sweaty brow equals shiny face in your wedding photos. Every bride wants to shine on her wedding day, but not like that!
9. Travel Sized Antiperspirant
Sweaty face. Check. Sweaty pits? Ew. Keep the antiperspirant nearby, and reapply!

10. Travel Sized Baby Powder!
Here is the single most important item to have in your beach wedding emergency kit! The uses for baby powder are many and make it an invaluable item in your beach wedding emergency kit. Avoid dreaded 'Swamp Crotch' by sprinkling some between your thighs. sprinkle some on legs and arms to avoid the sand sticking to you during your wedding ceremony, or Newlywed photos on the beach. Apply on your underarms before applying your deodorant to manage sweat. You can even set your makeup with baby powder!
There you have it! Ten items you simply can't live without in your beach wedding emergency kit. Now you armed and ready to get married on the beach!And if you haven't yet booked your Riviera Maya destination wedding photographer, then
And if you are searching for the best wedding photographers in the Riviera Maya, then contact us today! We are Fun In The Sun Weddings, for the best wedding photography in Playa del Carmen, Cancun and Tulum.
Download our FREE Guide To Getting Married In The Riviera Maya
This post contains affiliate links, and we'll earn a commission if you shop through them. Think of it as a small tip for us in return for bringing you great content!