Think about it:
You've just travelled all day. You're tired. You're hot. You're thirsty. You're in a foreign country.
How great would you feel if you walked into your hotel room and found a welcome bag overflowing with thoughtful gifts that are just exactly what you need? It would certainly get your vacation off on the right foot, wouldn't it?
The people you love are making the journey to see you get married on the beach in Mexico, and it would be good destination wedding etiquette to show them how much you appreciate them coming. After all, they are taking time out from their lives, and spending their hard-earned dollars to celebrate with little ol' You!
One of the best ways to show your gratitude is by showering them with gifts, and the easiest way to do that is by giving them all destination wedding welcome bags. The Knot suggests welcome bags have personal touches with local tastes.
(Newsflash! When it comes to destination weddings, your guests' presence is their present, and instead of expecting to get wedding gifts, YOU should be buying THEM gifts!)
So, let's get you into your wedding guests' good graces with these super fun welcome bag ideas for your destination wedding in Riviera Maya, Mexico. (Or wherever you happen to be getting married!)
1. The Welcome Bag Bags
The welcome bag itself is going to be the first thing your wedding guests will see when they arrive at their room, so let's start with something cute to pack all of those thoughtful gifts into.
If budget is your top priority, you can choose simple beach-themed bags.
Super fun idea:
If you want to give your guests' a great gift that they can actually reuse for outings to the beach, then we love these personalized totes! You choose how to make them uniquely yours:
Use your wedding colors
Personalize with your initials and wedding date
Customize with a quote or hashtag
Put their name on it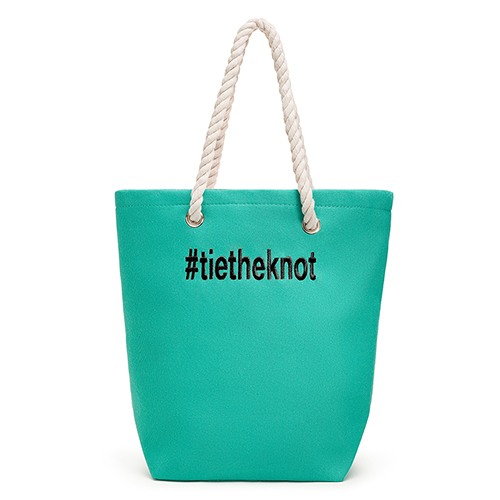 Okay, so now you have the base. Let's move on to stuffing it with the goods!
Starting with the practical stuff…
2. Bottled Water
They've just spent hours on an airplane and it's hotter than hell outside. It's safe to say your wedding guests are going to be thirsty when they arrive! The first item they will want to see in that adorable welcome bag is bottled water! Toss a few bottles into the bag.
Super fun idea:
Here's an excellent (and easy!) way to add your own special touch:
Personalized drink labels!
Slap a label with your names, wedding date or simple phrase on those refreshing beverages, and let guests quench their thirst with water wrapped in your own branded bottle.
3. Snacks and Munchies
The new arrivals are probably going to be hungry as well, it's been a long day already, and tonight's welcome party is right around the corner, so toss a few power-packed snacks in there like granola bars or trail mix to get their energy up. They're gonna need it!
Super fun idea:
Choose each of your favorite snack items (one 'His' and one 'Hers' would be perfect!) and wrap them in personalized cellophane bags to make them extra special.
4. The Wedding Itinerary
Even if you went to the effort of making a destination wedding website filled with all your important wedding information, assume that most of your guests probably didn't pay much attention. Hey, people are busy! So give them an itinerary in their welcome bag. Give them all the important details for the big day, plus any extra activities you have planned. Be sure to include:
Times
Dress Codes
Names and phone numbers of all key people
Emergency contact numbers
Maps
Super fun idea:
Instead of just your basic plain white sheet of paper, make your own personal wedding stationery to give it that extra special touch. Choose paper in your wedding colors, and add your own stamp at the top. Easy peasy.
Download our FREE Ultimate Guide To Getting Married In The Riviera Maya
And now let's throw in some fun stuff for their vacation…
5. Sunscreen
For the destination wedding in Riviera Maya, or anywhere hot and tropical, you can never have too much sunscreen! Your guests will appreciate little bottles of SPF tossed into their welcome bag because they are easy to carry around for keeping the tan lines under control.
Super fun idea:
Rather than just giving them mini bottles of Coppertone, why not make it unique and fun by giving them personalized sunscreen!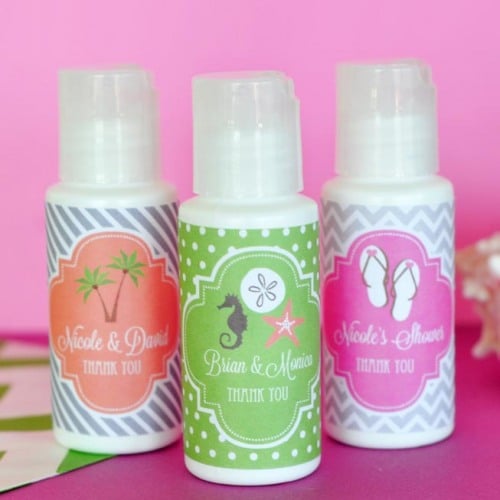 6. Bug Spray
The Tropics are an amazing place to be, with hot days and warm nights. However, paradise comes with a price, and here our 'paradise tax' is BUGS! Depending on the time of year you visit, the mosquitos can be a real pain in the bum, so make sure your wedding guests are armed with little bottles of mosquito repellant.
Super fun idea:
How do you make insect repellant fun? Well, maybe not so much as fun, but more like 'easy to pack and space saving' for you, which I guess makes it kinda fun in a way…check out these all-natural mosquito repellent patches!
7. Sunglasses
Everyone needs a pair (or two!) of sunglasses in Mexico. 'Nuff said.
Super fun idea:
Identify yourselves as a group on vacation, and give your guests a cool memento to take home, by giving them all personalized sunglasses, inscribed with your names and wedding date, or your wedding hashtag.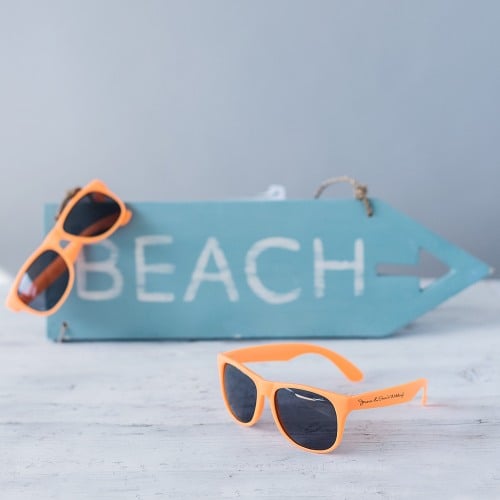 8. Lip Balm
Easy to pack with you from home, inexpensive to buy, and always appreciated by all lips chapped by the Mexican sun, lip balm with SPF is an easy addition to your welcome bags.
Super fun idea:
You guessed it! You can customize lip balm too!
And then, because they ARE coming to celebrate after all…
9. Local Refreshments
We've already covered the bottled water, but let's face it, your guests are here to celebrate with you so they might appreciate something a little more 'adult' to quench their thirst! Stock that welcome bag with regional refreshments like ice cold local craft beer and mini bottles of tequila.
Super fun idea:
Give them a personalized beer koozie to help keep all their vacation cervesas nice and cool. (And those for years to come!)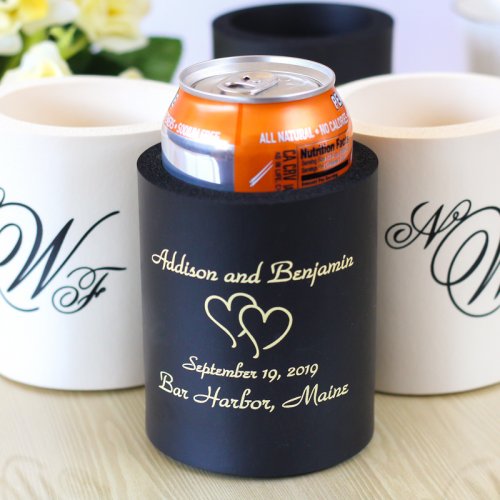 10. The Hangover Kit
The chances are good that each of your guests will have at least one rough morning at some point during their trip. Be a good host, and give them the essentials to help get them back out having fun in the sun with you. Advil, Emergen-C, Alkaseltzer, chewing gum, ear plugs…..you know the drill.
Super fun idea:
Wrap it all up in a cute little reusable bag!
11. Matching Trucker Hats
You and your group are sure to draw a lot of attention during your holiday, so why not give everyone a keepsake to wear that identifies you all a group and screams 'Hey, I'm with this super awesome group!' This idea also works with t-shirts, but we just like hats better, because it's hot and sunny outside which makes a trucker hat not only cool but also practical.
Super fun idea:
Pick a wedding hashtag or catchy phrase to build custom hats for your group, and make them more desirable to be worn again after your wedding. (Find them here)
And finally, the most important item of all…
12. A Thank-You Note
Nothing says "Thank you for being here" better than saying "Thank you for being here". Make sure each and every guest gets a personal, handwritten note to let them know how much you appreciate them making the journey to be beside you on the biggest day of your life. It doesn't need to be long, but this is a must-have in your welcome bag.
Make it super fun:
Grab a bunch of postcards from the gift shop and scribble your heartfelt feelings on those, for a special touch.
Remember, your wedding welcome bags are all about showing your wedding guests that you love them and you appreciate them coming. Keep that in mind and you can't go wrong.
And for those of you planning weddings in Riviera Maya, Mexico, who want the best photographer in Cancun, Playa del Carmen or Tulum, then contact us today! We are Fun In the Sun Weddings, your #1 photography choice for weddings in Riviera Maya!
Download our FREE Ultimate Guide To Getting Married In The Riviera Maya
This post contains links that could earn us a commission if you shop. Think of it as a tip for bringing you great content!