Okay, so swooping out of town with all your favorite people to get married on the beach in Mexico is totally your idea of how to make your wedding more memorable/romantic/fun, and I couldn't agree with you more! I had my own destination wedding six years ago, and my guests still reminisce about what a wild and crazy trip it was! But unfortunately, before you can jet off to some fabulous wedding destination, and set up shop poolside with a cocktail in your beautifully manicured hand, you are first going to need to address logistics and organize everything.
Ugh. Overwhelming, I know! If you're dragging your heels on starting this whole destination wedding planning thing, allow me to give you a swift kick in the pants, and explain why you need to get cracking on those plans asap!
1. A bride who books her wedding early can save a bundle!
Yes, as a rule, destination weddings in the Riviera Maya tend to be less expensive than traditional weddings at home. However, if you have the wedding budget on the brain, and you're thinking about escaping your city during the dreary winter months to get married on the beach in Mexico or some other tropical paradise, rest assured you are not alone! It's basic supply and demand…everything is going to be more expensive during high season, for you and for your guests.
But don't panic! If you get started early with your plans, you're far more likely to save money in your wedding kitty in the long run. Travel bookings made well in advance can allow you the advantage of deals on flights or group vacation packages. It will also give you time to do some homework on the best destination or time of year for your bank account. Plus it's good to give yourself a buffer in case your research reveals that you need to switch things up or make changes to your itinerary.
2. Book your wedding early to avoid disappointment
Vacations cost money, and most of us need time to save for them. Unless you roll with the independently wealthy, you've gotta be considerate of others' finances when inviting them to your destination wedding in Mexico. People with regular jobs have a limited number of vacation days a year, so don't go announcing a December wedding sometime that summer and expect that guests' schedules will still be open for your nuptials. Give friends and family plenty of advance notice for your event, and you may actually find your favorite people sharing in a poolside cocktail alongside you! A year's notice is pretty standard etiquette for a destination wedding, in the form of a Save The Date announcement. Get the ball rolling early to set the stage for a fantastic party, or risk cheers-ing your lonely ol' self with that blended margarita.
Download our FREE Ultimate Guide To Getting Married In The Riviera Maya
3. The early bird gets the Honeymoon Suite…
…Or the best time slot for their beach wedding ceremony, or their favorite wedding photographer! Here in Mexico, any given resort can have as many as five weddings a day being celebrated, and it is first come, first served. She who books earliest gets the choice pickings. If you want to find your preferred vendors available for your day, and do not want your wedding ceremony to be in the early afternoon (the hottest time of the day, FYI), or if you expect your guests block of rooms not to be overlooking the parking lot, then it's time to get to work and start planning!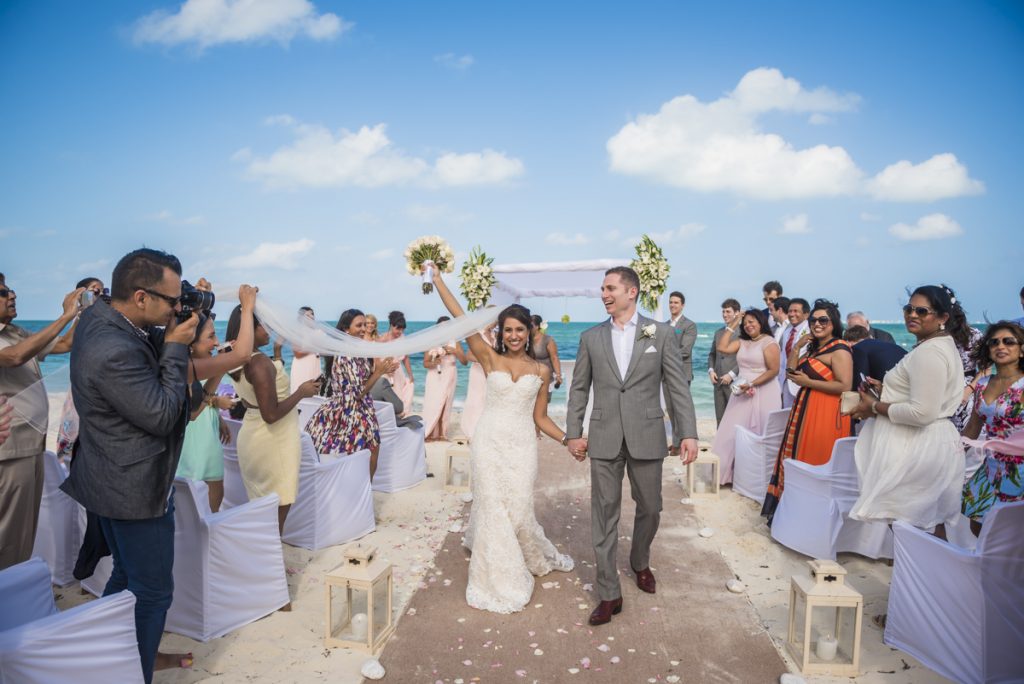 Well, what are you waiting for? You've got a destination wedding to plan!
What other tips do I have for you Brides getting married in Mexico? Be sure to read the series that covers tons you need to know about planning your perfect destination wedding.
I'd love to hear your tips and suggestions on planning a destination wedding, your own horror stories, success stories….bring it on! Leave them in the comments below.
If you are looking for the best wedding photographers in the Riviera Maya, then contact us today! We are Fun In The Sun Weddings, the best wedding photography in Playa del Carmen, Tulum and Cancun.
Download our FREE Ultimate Guide To Getting Married In The Riviera Maya