Did you know that one out of every four weddings today is a destination wedding? With this shift towards a different way of doing 'I Do', a new set of rules and expectations is emerging. Today I thought we would chat about destination wedding etiquette, and specifically the important things you need to know when it comes to who pays for what.

Should I pay for my wedding guests' travel expenses?
Absolutely not! I would actually be very surprised if anybody expected you to. You may run into a dilemma of a friend or family member who has fallen on tough times, and who can't afford to come, or you might have a few guests who kinda hate you for having a destination wedding. How you deal with those circumstances is of course at your discretion, however, ask yourself how your other wedding guests would feel if they found out you had paid for somebody else, while they were required to scrape together the funds for themselves? Prepare yourself to hear a lot of ' no' RSVPs when it comes to planning your destination wedding.

Should I pay for my wedding guests' to have day passes to the all-inclusive resort?
Yup. You should. Any expenses that are directly related to the wedding day festivities should be covered by you, including the wedding meal, drinks, rehearsal dinner. There are many reasons that a wedding guest might not be staying with you at your awesome all-inclusive resort, but consider how tacky it is to have them pay to travel to see your wedding, and then get slapped with another bill for entrance to your resort to see you get married on the beach. Not cool.
Download our FREE Ultimate Guide To Getting Married In The Riviera Maya

Should I pay for my wedding guests' excursions and activities?
No….however…your guests will traveling a long way to be with you, and it would be a wonderful show of your appreciation to at least host and pay for a welcome party when they arrive. This is pretty common practice down here in Mexico now and it would go a long way to making them feel appreciated. Plus, it gets things kicked off on a high note! We are also noticing a trend towards the bride and groom picking up the tab on an extra activity during the vacation (budget dependant of course!); a boat cruise, bachelor/bachelorette party, the morning after brunch. Again, this is not required but is sure to keep your nearest and dearest holding you in the highest regard.

Who buys who wedding gifts?
Here's a tricky one with an unclear answer based entirely on different opinions. Personally, I don't believe the bride and groom should ever expect a gift from a guest attending their destination wedding. It's that whole 'your presence is a present' thing. And if your guests do buy you gifts, they should be less extravagant than if they were attending your wedding back home. That being said, I believe that you should buy them a gift. Most couples who get married in Mexico do this in the form of destination wedding welcome bags left in each guest's room upon arrival. Stock it full of all the little things they will need for their holiday, like little bottles of personalized sunscreen (and tequila!)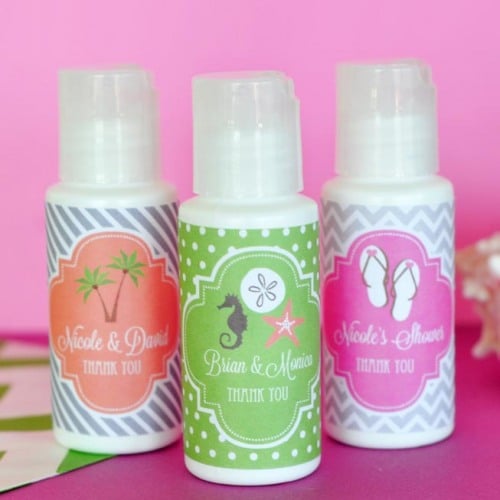 Or something they can keep like a hat, shirt or beer koozie with your names and wedding date printed on it.


Destination wedding etiquette is different from your standard wedding etiquette, but the most important thing to keep in mind is that your wedding guests are people you love and care about, and who love and care enough for you that they are dropping a lot of hard earned dollars and giving up their precious vacation time to come and celebrate with you! Good etiquette is to show them just how much you appreciate that.
***AND OF COURSE*** If you happen to be looking for the best wedding photographer in Cancun, someone with tons of personality, then contact us today to get your wedding date secured! We are Fun In the Sun Weddings, your best choice for wedding photography in Cancun, Playa del Carmen, and Tulum.
Download our FREE Ultimate Guide To Getting Married In The Riviera Maya
This post contains links that might earn us a commission if you shop. Think of it as a tip for bringing you great content!