Are you planning a Riviera Maya wedding?
Think you've got it all covered?
Then you can't afford to miss this article.
We chatted with the superb Natalia Schweitzer, wedding coordinator for Weddings On The Beach, and asked her what brides always seem to overlook or forget to consider when planning their destination wedding in Mexico. Here are her top five tips….

Neesha & Mike's Cancun wedding
Appropriate Attire
Newsflash: It gets very, very hot in Mexico!
Making decisions about your wedding dress, bridesmaids dresses, or what the boys will wear without keeping this top of mind will end in a sweaty day of misery for all! The Knot suggests in their Beach wedding 101 that natural, breathable fabrics, in light colors for everyone in your bridal party are a must. Also avoid fabrics that will pick up sand and debris from the beach. (For more on choosing the perfect beach wedding dresses, read this)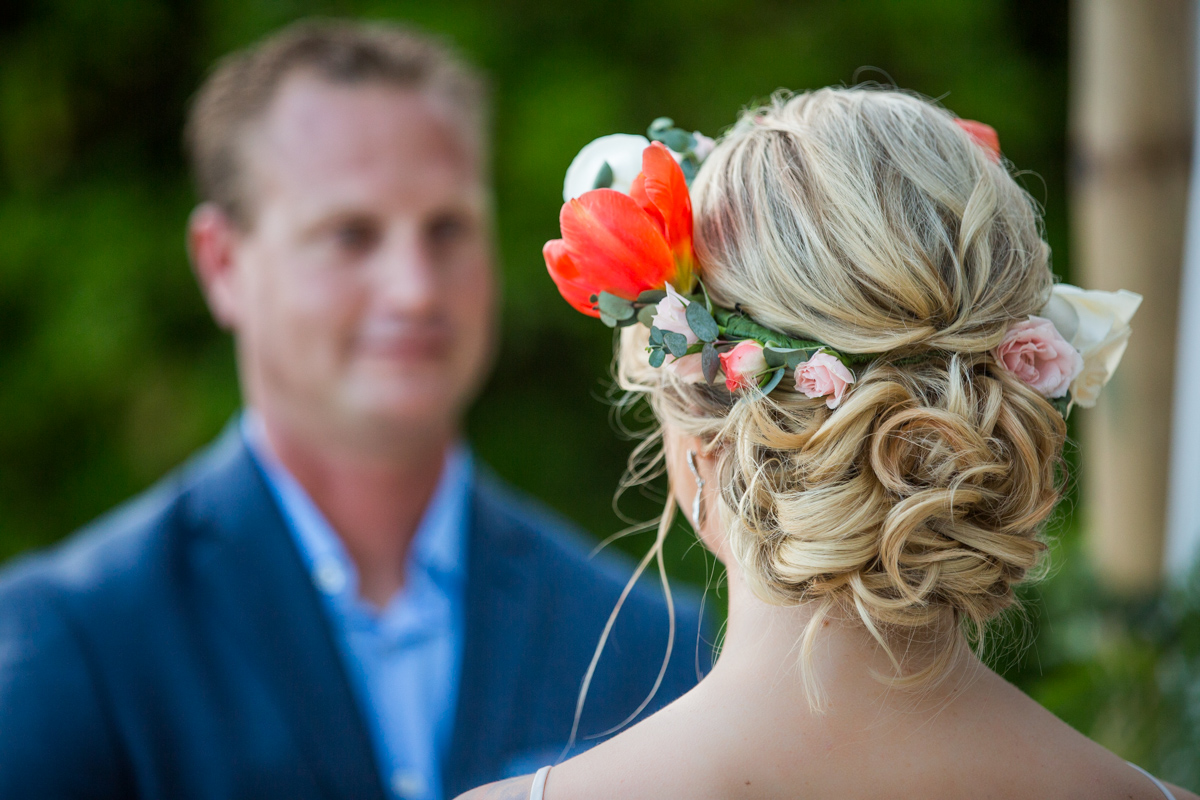 What does your hair do when presented with a hot, sticky environment?
Does it fall flat and limp, or double in size from frizz (like mine)?
When you are making a decision about your wedding day hairstyle, Natalia says to keep in mind that you are coming to the tropics. An up do is always the smartest choice, but if natural and flowing locks are in your beach wedding vision, then make sure you are armed with some seriously magical hair products!
Melissa & Chris' Playa del Carmen wedding
Flat Floral
Natalia tells us that not every flower holds well with the heat, wind and rain of the beach. Avoid a sad looking wedding bouquet, or wilted wedding décor by doing your research ahead of time and working with a local professional who can recommend flowers that can withstand the heat.
Download our FREE Ultimate Guide To Getting Married In The Riviera Maya

Darcelle & Justin's Playa del Carmen wedding
Lights!
Natalia warns that "Beach lighting is expensive and most brides do not budget for this. They then go over budget when I mention the need of good lighting for photos etc…" So add a line in that wedding budget for lights to avoid any unpleasant last-minute budget smashers!

Shotgun Speeches
I found this final tip of Natalia's the most interesting of all. "It has happened to me a few times that the couple forgets to tell their people to do speeches…they send me the list of speakers but those people did not even know they had to speak!" Ugh! Can you imagine? Awkward! Giving a wedding speech that doesn't suck is hard enough as it is, let alone done on the fly! So make sure everyone is on the same page, and hopeful, y you will have some well prepared, thoughtful comments presented at the wedding reception.
Which one of Natalia's tips did you find the most helpful? We want to hear about it in the comments below!
Are you looking for the best Playa del Carmen wedding photographer for your beach wedding? Then contact us now! We are Fun In The Sun Weddings, for the best Riviera Maya wedding photography in Tulum, Playa del Carmen and Cancun.
Download our FREE Ultimate Guide To Getting Married In The Riviera Maya