One frequently asked question from you brides-to-be out there is "Where do you recommend we get married in Riviera Maya?"
As professional wedding photographers in Playa del Carmen, we have loads of experience with all-inclusive resort weddings, as well as off-site wedding locations like beach clubs and villas, and we are always happy to share our opinion with you to help you plan the destination wedding of your dreams!
If you think you want to get married an all-inclusive resort then here is our Ultimate List Of Best Wedding Resorts In Mexico.
BUT, if you have already ruled out the cookie-cutter, zero privacy approach to your destination wedding, and want to do what you want to do for your Big Day, without any resort restrictions, then here are our 5 favourite off-resort wedding venues for getting married between Cancun and Tulum. This has been adapted from a previous article on the best venues for a destination wedding, and you will notice that a few have remained on our list, because, well, they are amazing! And we have a few new favourites we know you are going to love!

(Shane & Brandon, Ak'iin Beach, see their full wedding here!)
Ak'iin Tulum
The Ak'iin Beach Club in Tulum, Mexico, has topped our list for years now because it is hands down one of the best locations for your beach wedding. If you are a bride lucky enough to book this venue, we promise that it will absolutely exceed your expectations.
The Ak'iin delivers everything you would expect from the boho-chic town of Tulum. It is rustic, yet modern. Lush yet contemporary. It is located between the wild Mayan jungle and the turquoise Caribbean sea, and the massive stretch of opalescent beach it sits on gives you enough space to plan whatever kind of beach wedding your heart desires! There couldn't be a more romantic backdrop than Tulum for getting married on the beach. And with the excellent catering and impeccable service offered at The Ak'iin, this location is an easy choice for beach weddings.
(Read unbiased reviews of Akiin Beach Club on Tripadvisor here.)

(Amber & Mauricio, Grand Coral, see their full wedding here!)
Grand Coral Riviera Maya
A hop, skip and a jump north of Playa del Carmen is the community of Grand Coral, a peaceful area popular with golfers and holidaymakers. At the bottom of the community's meandering road lined with palm trees, sits the Grand Coral Beach Club. This wedding venue has been a long time favourite of ours. There are several great resorts right on the doorstep, making wedding plans easy if you want to vacation in or around lively Playa del Carmen, without travelling too far on your wedding day.
The Grand Coral is a contemporary style beach club where you can get married with your toes in the sand, and then party the night away around their oceanside infinity pool. The facilities are impeccable, and the service is excellent.
(Read unbiased reviews of Grand Coral Beach Club weddings here.)

(Jessica & Shae, Villa La Joya, see their full wedding here!)
Villa La Joya
One of our new favourite off-resort wedding venues is a private residence north of Playa del Carmen on Playa Paraiso, called Villa La Joya. This location offers privacy amidst the hustle and bustle of resorts surrounding it. You can get married in the garden, or on the beach with your toes in the sand. Then you will party the night away poolside on the beachfront terrace.
As professional wedding photographers, we especially love this location because of all the amazing photo ops! Yes, of course, you will have the beach for wedding photos, but add to that the villa's majestic staircase, immaculate gardens and traditional Mexican motif, and Boom! You have a diverse and dreamy combination for your wedding photos.
(Read unbiased reviews of Villa La Joya weddings on Wedding Wire here.)
Download Our FREE Ultimate Guide To Getting Married In The Riviera Maya

(Kelly & Simon, Blue Venado Beach Club, see their full wedding here!)
Blue Venado Beach Club
Just south of Playa del Carmen is Punta Venado, a wild and rugged bay that is a little different from what you would expect from the Riviera Maya and offers more privacy thanks to its off-the-beaten-path location. A rugged dirt road winds through the jungle, ending at the Blue Venado Beach Club. By day, the area plays host to the adventurous tourist offering activities like jet skiing, ATVing, horseback riding, and mountain biking. But as the heat of the day subsides, it transforms into the perfect beach wedding location, with a backdrop of palapas and crashing waves.
Get married barefoot on the beach, and then retire under the giant palapa for your wedding reception. And if you want magical sunset wedding photos on a horse, this is the place to do it!
(Read unbiased reviews of Blue Venado Beach Club on Tripadvisor here.)

(Andrea & Joe, Secrets Celebrations Venue, see the full wedding here!)
Secret Jewel Celebrations Venue
We recently shot our first wedding at Secret Jewel Celebrations Venue, and were blown away! We looked at each other and said: "How have we never heard of this place?" This location was literally made for destination weddings!
Situated halfway between Playa del Carmen and Puerto Morelos, hidden between the endless corridor of resorts, this a convenient option if you are staying closer to the airport. Tucked between the lush jungle and a private bay, this venue boasts a proper bridal suite to get ready, a huge sandy area among the palm trees for your barefoot reception, and even a small beachfront chapel. You have all the creature comforts and luxury you could want, and best of all – you have privacy!
(Read unbiased reviews of Secret Jewel Celebrations Venue on Wedding Wire here.)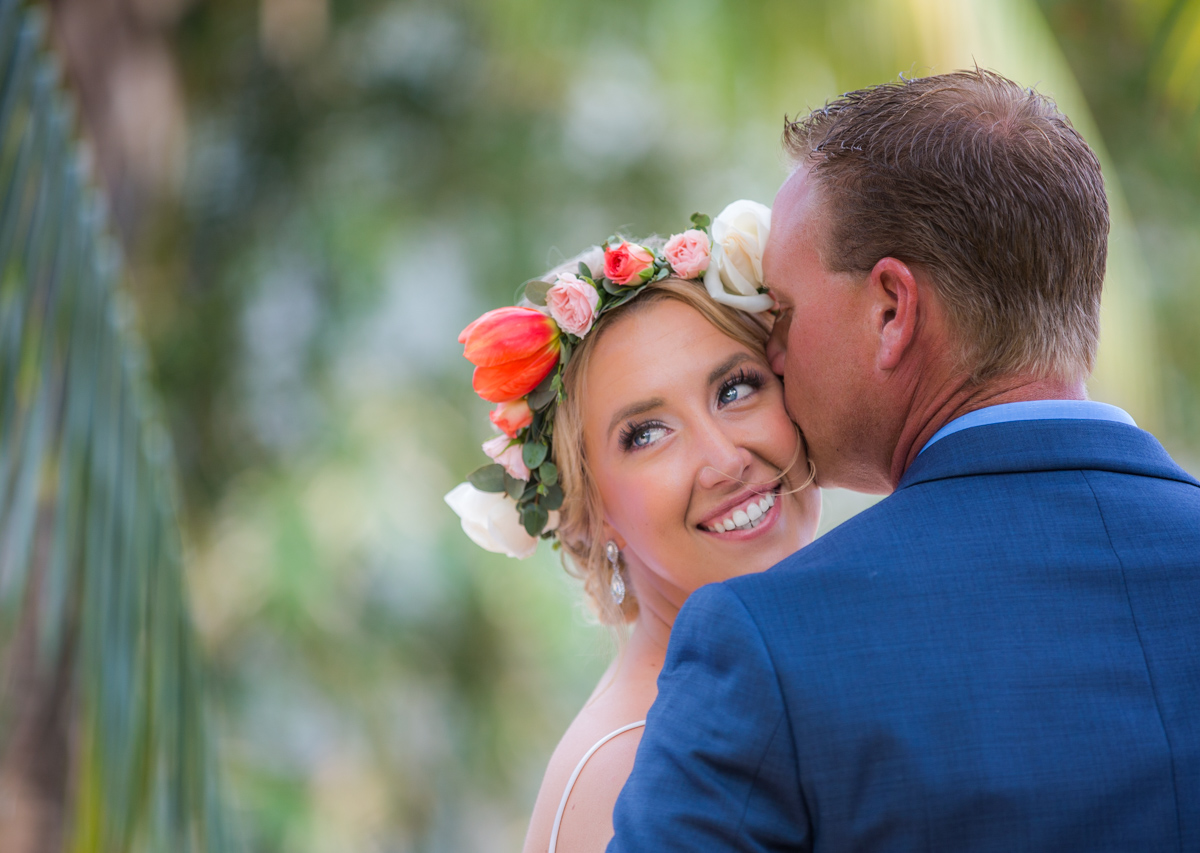 Listen, we get it. Choosing an off-resort wedding venue in the Riviera Maya be a little daunting at first, but if you start your destination wedding planning adventure with our 5 favorites, we can personally guarantee you will not be disappointed!
And hey! If we missed anywhere awesome, we want to hear about it in the comments below!
Of course, another extremely important decision you will need to make for your beach wedding is: Who will you trust to capture the memories of the biggest day of your life? The best wedding photographers in Riviera Maya book up quickly, so don't leave this decision until the last minute. In fact, why not jump on this one right now, and contact the best photographers in Playa del Carmen, Tulum and Cancun? We are Fun In The Sun Weddings, for the best wedding photography in the Mayan Riviera, Mexico.
Download Our FREE Ultimate Guide To Getting Married In The Riviera Maya