The romance of getting married on the beach in the Riviera Maya brings couples from all over the world on the quest for that picture-perfect beach wedding by the Caribbean sea.
Picture it.
Warm, salty breezes gently dance on your sun-kissed skin as you bury your toes in the soft ivory sand. The setting sun ushers in a melody of coral and blush to compliment a crashing turquoise sea.
You're getting married in paradise, and this is a perfect moment!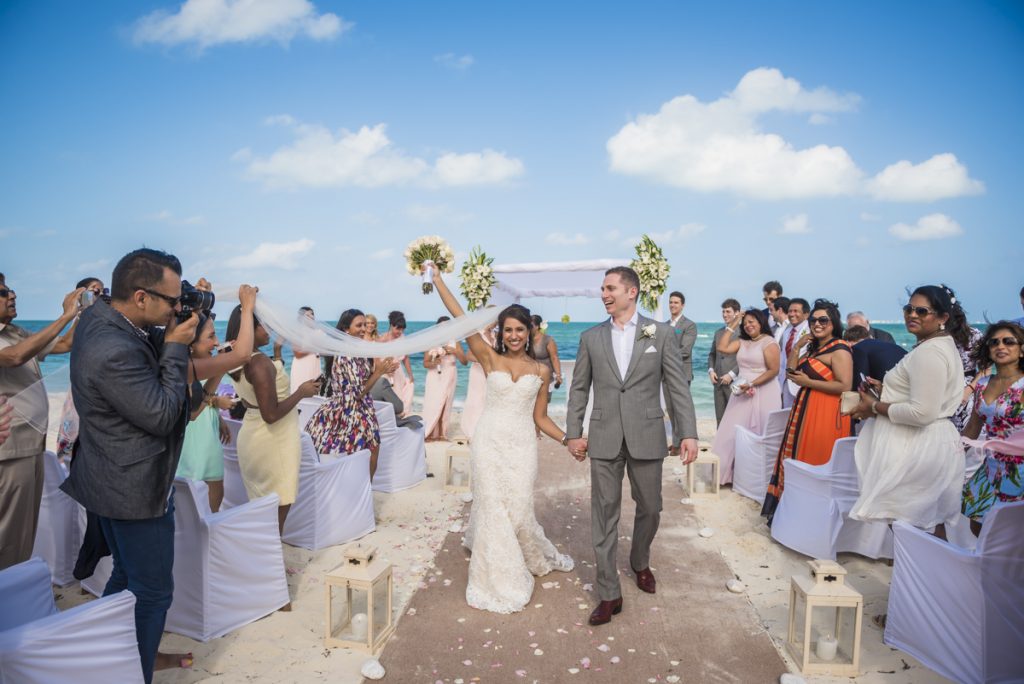 Okay. And now the reality check. A destination wedding in Playa del Carmen is a dynamic event. Don't expect a wedding here to be like a wedding in the UK only warmer and prettier because that can spell disappointment. This is a whole different world you are dealing with. But luckily, a little forethought and careful planning can make the difference between a wedding day that is Happily-Ever-After and one that is Happy-To-Get-This-Over-With!
To help you stay ahead of any common pitfalls, here are 5 differences between UK and Mexico wedding ceremonies you need to consider when planning your destination wedding.
Download our FREE Ultimate Guide To Getting Married In the Riviera Maya
Plan for rain on your wedding day
Wait a second. Did she say 'Plan for rain'?
You might be asking yourself how this makes a wedding in the Riviera Maya different from a wedding in the gray and gloomy United Kingdom where a rainy wedding day is pretty much a certainty. It's true that almost every day of the year brings glorious sunshine and delicious heat to the Cancun area. But, this is the tropics, and that means total unpredictability with rain. At any given moment, during the rainy season or not, the heavens can suddenly open up and dump a massive amount of earth-quenching rain in a very short period of time. Think downpour, not drizzle.
The Knot says that you really should have a solid plan 'B' if you're getting married outside, and we couldn't agree more! The rain usually comes fast and furious, and thankfully doesn't stick around long like in the UK. A switch to your ceremony location will be a game day decision, often made within the hour of your ceremony.
Nothing like living on the edge, right? You should have an appetite for adventure when you get married in the Mayan Riviera!

Your beach wedding dress should be tan-line friendly
Now I hate to generalize because it can get me into trouble but on the whole, those who live in the UK often have that lovely, creamy white skin that turns a shocking, angry red on their first day in Mexico, even with the 150 sunblock and a sun shirt on.
This means trouble if you hope to show a little skin on your wedding day.
In the UK, you can wear whatever style wedding dress you want, but when shopping for wedding dresses for the beach in Mexico, you should probably be thinking ahead to tan lines and crispy skin. Say yes to a beach wedding dress (and bridesmaids dresses too for that matter!) that will cover up bikini straps, and then be super-duper cautious about sun exposure in the days leading up to your wedding. Imagine your wedding photos featuring you as a striped tomato stuffed into a puffy white dress. No bueno.

The weather in Riviera Maya calls for: HEAT!
Newsflash! It gets hot, and I mean hot hot hot in the Mayan Riviera. It's the humidity that many tourists find hard to handle, and most folks from the UK have never felt a heat like ours before. Keep this in mind when planning your wedding ceremony on the beach.
Encourage your guests to wear light, comfortable clothing to the ceremony. Think loose, light, and natural fibers. Coming from the UK you are all going to sweat like crazy, so wear clothing that will let your skin breathe.
Don't make anybody sit or stand in the sun for longer than absolutely necessary. The last thing you want is cranky guests suffering from heat exhaustion.
Plan for a shady area nearby for all of you to retire to, and make sure loads of water is available.

Timing is everything for a civil wedding ceremony in Mexico
Are you expecting to get legally married at your destination wedding? There are a handful of requirements for getting married in Mexico that are different from the UK. The key points are in the timing.
You will need to be in Mexico for 3 working days before the day of your wedding, or put another way, you have to arrive 4 working days before you can get legally married.
Mexican holidays are completely different from the calendar followed in the UK. Let me tell you, we live here, and it still feels like obscure holidays come out of nowhere! So, when you're counting out those working days remember that holidays (and weekends) don't count!
Also, If you are coming from the UK, you have a significant time zone change to consider. Do the math on what time you need to land local time to count as 4 days.
Consider that if you want to get legally married in Mexico, you will need to deal with getting documents legalized in the UK.

Choosing a marriage officiant in Riviera Maya
If you were getting legally married in the UK, you could choose to have a friend or family member get ordained to add a personal touch to your wedding ceremony.
But not in Mexico.
Don't get me wrong, you can absolutely choose your own marriage officiant, but then your wedding ceremony can only be a symbolic one. For your marriage to be legal, a state-appointed officiant will have to perform your ceremony.
But on the bright side, you don't have to speak Spanish to understand your wedding vows. Officiants here can be expected to speak English. Hooray for small victories!
One of the best places for destination weddings is Mexico. This is going to be completely different from a traditional wedding back home in the UK, and isn't that what you're hoping for? Nothing is ever perfect, but now that you are prepared, when you find yourselves standing on an impossibly beautiful beach exchanging vows among your nearest and dearest, it's going to feel pretty darn perfect!
If you're looking for the best Playa del Carmen wedding photographers to capture your beach wedding, then contact us today! We are Fun In The Sun Weddings, best destination wedding photography in the Riviera Maya, Mexico.
Download our FREE Ultimate Guide To Getting Married In the Riviera Maya