What the heck is an outside vendors fee?
For those of you planning destination weddings in Riviera Maya Mexico at an all-inclusive resort, at some point, you will be asking this question. And you probably will not like the answer, but hey, forewarned is forearmed right? Here we help you understand what outside vendor fees are, why resorts are charging them, and what you can do about it.

1. What's An Outside Vendor Fee?
Newsflash Beach Brides! If you choose to get married at an All-inclusive resort in the Riviera Maya, and you want control over what wedding vendors you hire, be prepared to pay the price. Let's say that you are less than thrilled by the onsite wedding photographer your resort insists you pay for, and you have found a local wedding photographer (vendor) who's style you absolutely love and must have. It is common practice for All-inclusive resorts to tack on their own fee, over and above your chosen vendor's fee, just for the privilege of having that individual on the resort's grounds.
2. How Much Will The OutsideVendor Fee Cost Me?
There is no regulation or standard fee. Vendor fees are totally at the discretion of each particular resort. You might luck out and not have to pay anything, but at the very least expect that the cost of a day pass will be required. You will find that some resorts are charging upwards of $1000 per vendor now! Ouch! Watch that tight wedding budget quickly come undone when you start to factor in your own photographer, florist, DJ, minister….because remember, this is over and above your chosen vendor's fee!
3. How Do I Avoid Paying The Vendor Fee At My Resort?
The only time you will hold any negotiating power is before you sign a contract with your hotel. This is why it is SO important that you do your homework and ask important wedding planning questions when exploring the multitudes of Riviera Maya All-inclusive options. If you do not like their vendor fee policy, work your negotiation skills to have it reduced or eliminated, or do not get married there! And please, if you do manage to work out a fair deal, then make sure to get it in writing on your contract.
Insider Tip: One option that is worth exploring is booking a night for your wedding photographer at your resort. In some cases, the vendor fee would be waived if they are a guest of the resort, and this can end up being cheaper than the vendor fee.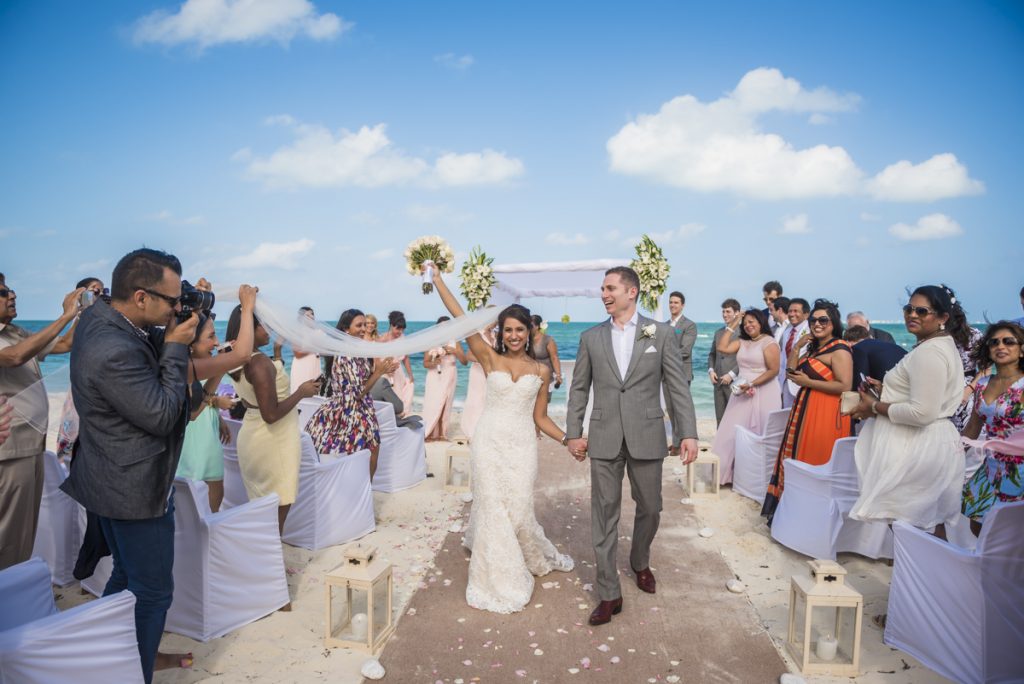 Download our FREE Ultimate Guide To Getting Married In The Riviera Maya
4. I Didn't Know About The Vendor Fee At My Resort – What Can I Do Now?
I'm afraid you might be out of luck on this one. (Insert unhappy emoji) Although I am not suggesting that it isn't worth a try to ask for a discount, I certainly would not hold my breath for your resort to be open to negotiation. It bears repeating that you need to do your research before you sign a contract with your resort.
5. Where Does My Outside Vendor Fee Go?
I wish I had a straightforward answer for you on this one. My best research says that the fees go in part to the onsite vendors who's service you have chosen not to use. It may also go straight into the pocket of the resort. With certainty I can tell you where it does not go: It does not go in any part to your chosen off-site vendor, and it does not reflect in any increased value to you, the paying customer.
6. Will My Vendors Offer Me A Discount To Cover The Vendor Fee?
That depends. Every wedding vendor is different, and therefore the sensitive subject of discounting their services so that you can save money will be dealt with differently depending on who you have chosen to work with. It never hurts to ask for a discount, however, I will say that it is important to be fair when asking to negotiate and remember that each company sets their rates based on their cost of doing business. A discount should never be expected.
7. Is There Anything Else I Can Do If I Am Unhappy With Paying A Vendor Fee?
Yes, absolutely! The first thing you can do is get married off-site instead, or out of your resort. (In my opinion, not enough Bride and Grooms explore this option!) There are SO many romantic, funky and unique beach clubs or private villas in the Riviera Maya that can provide an amazing beach wedding, from the ceremony through reception. Contrary to popular belief, the best destination wedding venues here are NOT restricted to All-inclusive resorts, and you might be surprised to see how comparable the cost is at the end of the day. Your best bet, if you choose to go this route, is to hire a wedding planner, and we work with the best in the business! Contact us here, and we will gladly put you in touch.
The second thing you can do is to harness the power of the internet! Reviews and testimonials are every company's bread and butter down here in the Riviera Maya, and bad reviews can be your demise. If you are unhappy with a resort's vendor fee policies, shout it from the rooftops to anyone who will listen! Warn future engaged couples, and cause a stir! The world wide web is a very influential place, and you have the ability to create change. So speak up!
***And if you are looking for a professional wedding photographer here in the beautiful Riviera Maya, Mexico, contact us by clicking here.
We are Fun in the Sun Weddings, your number #1 choice for destination wedding photography.
Download our FREE Ultimate Guide To Getting Married In The Riviera Maya