Well, that's a wrap!
The 2017 wedding season is now officially behind us, and with it goes our busiest, craziest year for wedding photography in the Riviera Maya, Mexico.
We are so grateful to every single bride and groom who chose to share their wedding day with us in 2017. From the small and intimate events to the huge, wild parties. There were hilarious hot, sticky moments where fake eyelashes and veils just needed to be torn off, countless minor wedding dress disasters, and a few relentless rain storms.
Each wedding was its own unique story, and we are so thankful for the incredible experience gained from it all.
With a new year of destination weddings in Riviera Maya unfolding in front of us, this is the best time to pause and reflect on everything that we learned this past year. With 365 days packed full of lessons and surprises about the Riviera Maya weddings industry, we have put together our top seven to share with you here.
1. Brides will continue to brave the 'dangers' of Mexico

(See more from Andrea & Kris' wedding)
2017 was a particularly tough year for Playa del Carmen in the media. Between the Zika virus, the BPM nightclub shooting, and Trump's ongoing threat to build a wall, many of us were worried about how all of this was all going to affect the tourism and wedding industry in the Riviera Maya.
It seems that there was no need to worry. The perceived dangers of Mexico were not enough to steer brides away from their dream of getting married on the beach. Just look around on any day before sunset at any beach from Cancun to Tulum, and you are sure to see a beaming bride getting her happily-ever-after.
2. There is no low-season for weddings in Riviera Maya
(See more from Jessica & Harry's wedding)
Talk to any local in Playa del Carmen and they will tell you that it feels like there is not a low tourism season anymore. We would tend to agree, especially when it comes to weddings.
A huge surprise to us in 2017 was that our busiest months for wedding photography were June and July! And no, the runner-up months were not what you would expect either, but rather May and October!
The reason? We really couldn't say. We are stumped too. Maybe couples are motivated by lower travel prices, or maybe they just really love the heat. So a heads up to brides and grooms planning a destination wedding: you should never procrastinate in securing the best wedding vendors in Riviera Maya, no matter what time of year you are getting married.
3. All-inclusive resorts' outside vendor fees are increasing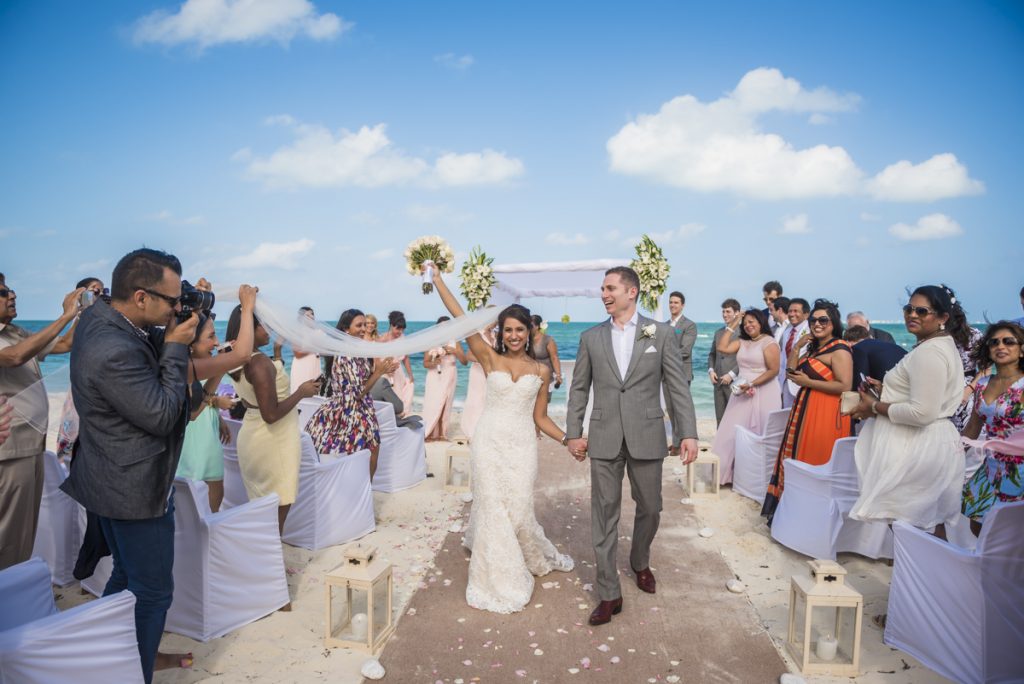 (See more of Neesha & Mike's wedding)
If you follow this blog regularly, the constant chatter about resort outside vendor policies may be like beating a dead horse, so we won't bore you with the same old information. (But if you have no idea what an outside vendor fee is, then you should definitely read this!)
What surprised us this year about outside vendor fees was how many of them have suddenly increased, or are rumoured to be increasing soon. One of our old favorites that we had on our Ultimate List of Best Wedding Resorts got bumped off for this reason. So it bears repeating – please make sure you are familiar with your resort's policy before you sign on the dotted line!
Download Our FREE Ultimate Guide To Getting Married In The Riviera Maya
4. Drone aerial videography policies are changing
Drone aerial videography is a key ingredient in all Riviera Maya wedding video packages these days. Drone footage allows the filmmaker to create a work of art. Our videography team always uses a drone, and have been able to do so without restriction in Mexico.
Until this year….
We were taken by surprise on a few occasions with new rules regarding the use of drones popping up in Mexico, where once there were none. Some wedding venues and all-inclusive resorts now require your filmmaker to carry their own liability insurance, and some will not allow the use of drones on their property at all. So make sure you inquire about your wedding venue's policy if you plan to hire Riviera Maya wedding videographers.
5. Our favorite new wedding resort in Cancun is…
(See more from Rachel & Ross' wedding)
2017 saw the opening of the new Hyatt Ziva in Cancun – and WOW! What a gorgeous resort for a wedding! The Hyatt Ziva is a wedding photographer's dream. It boasts a long pier that stretches out over the clear turquoise sea, a small lighthouse, and a strategic position on Cancun's north tip of Playa Mujeres where the sun actually sets into the ocean!
Playa Mujeres holds several fabulous resorts, but the best part is that the beaches are not overly crowded as compared to other hotel zones in the Riviera Maya. And other big-name resorts are currently being completed, so we can't wait to see what is coming in 2018!
(Want to know more about Hyatt Ziva? Check out unbiased reviews on Tripadvisor here)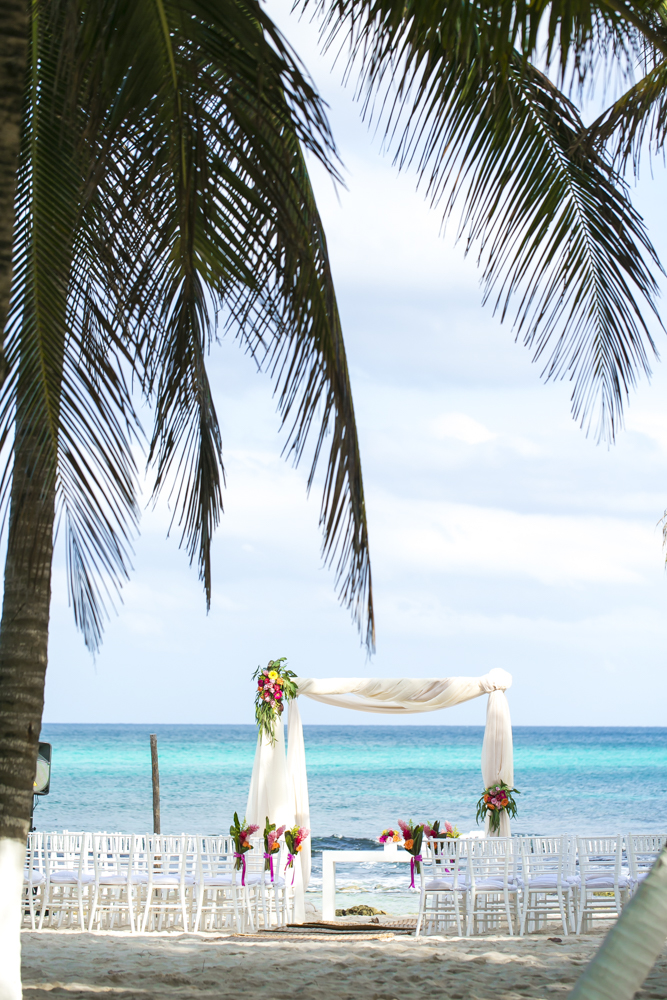 6. A great discovery for off-resort wedding venues…
We had the pleasure of being introduced to a new off-resort wedding venue near Playa del Carmen this year. This location is a total hidden gem, super easy to get to, and perfect if you crave privacy and creative freedom like Andrea & Joe did for their wedding day.
Secret Jewel Celebrations Venue was such a pleasant surprise for us that we have added it to our short list of Best Off-Resort Wedding Venues in Riviera Maya. We can't wait to return!
Want to know more about this venue for your wedding? Check out unbiased reviews on Wedding Wire here.
7. This year's most popular wedding resort in Riviera Maya was….
(See more from Nikki & Joe's wedding)
In 2017 we were surprised at how many of our all-inclusive beach weddings in Cancun were held at Now Jade Riviera Cancun and its sister resort Now Sapphire Riviera Cancun. With thousands of great resorts for engaged couples to choose from in the area, it's crazy how many times we have found ourselves returning to the Now resorts!
As smaller, more boutique style all-inclusive resorts that are easy to navigate, and get nothing but positive feedback from our clients, those on Tripadvisor definitely recommend Now Jade and Now Sapphire if you are still hunting for the best places to get married on the beach in Cancun.
2017 was an incredible year, and we couldn't be more grateful for that. We are excited and hopeful for all that 2018 has in store, the lessons it holds, the new discoveries to be made and the new couples we get to work with.
Here's hoping it is a happy and prosperous year for us all!
If you are looking for the best Riviera Maya wedding photographers to capture your big day, then get in touch with us now to book! We are Fun In The Sun Weddings, the best wedding photographers in Playa del Carmen, Mexico.
Download Our FREE Ultimate Guide To Getting Married In The Riviera Maya