Do you want to be left groaning "I WISH someone had warned me about that!" after your beach wedding has come and gone?
No, of course, you don't.
If you are getting married on the beach, there are loads of obscure little things that might get missed by the other wedding planning checklists. But even the smallest, seemingly inconsequential detail can come back to bite you in the butt later on.
Let's make sure that doesn't happen, shall we?
Here are 8 little-known things that you need to plan extra carefully if you're getting married on the beach.

Jessica & Brian's wedding in Tulum
Dress for success!
There is lots of information out there about choosing the right beach wedding dress, so I won't be redundant with what you probably already know about choosing lightweight natural fibers. Instead, let's chat about beach wedding dresses with long trains. Trains are SO pretty and classic, I agree. However, in our experience, trains cause the beach bride stress every time. They are like a magnet for sand and beach debris, and you will be hauling extra weight as you collect souvenirs all day long.
Keep your dress floor length, or even cocktail length. Casual is cool when you're having a beach wedding in Mexico!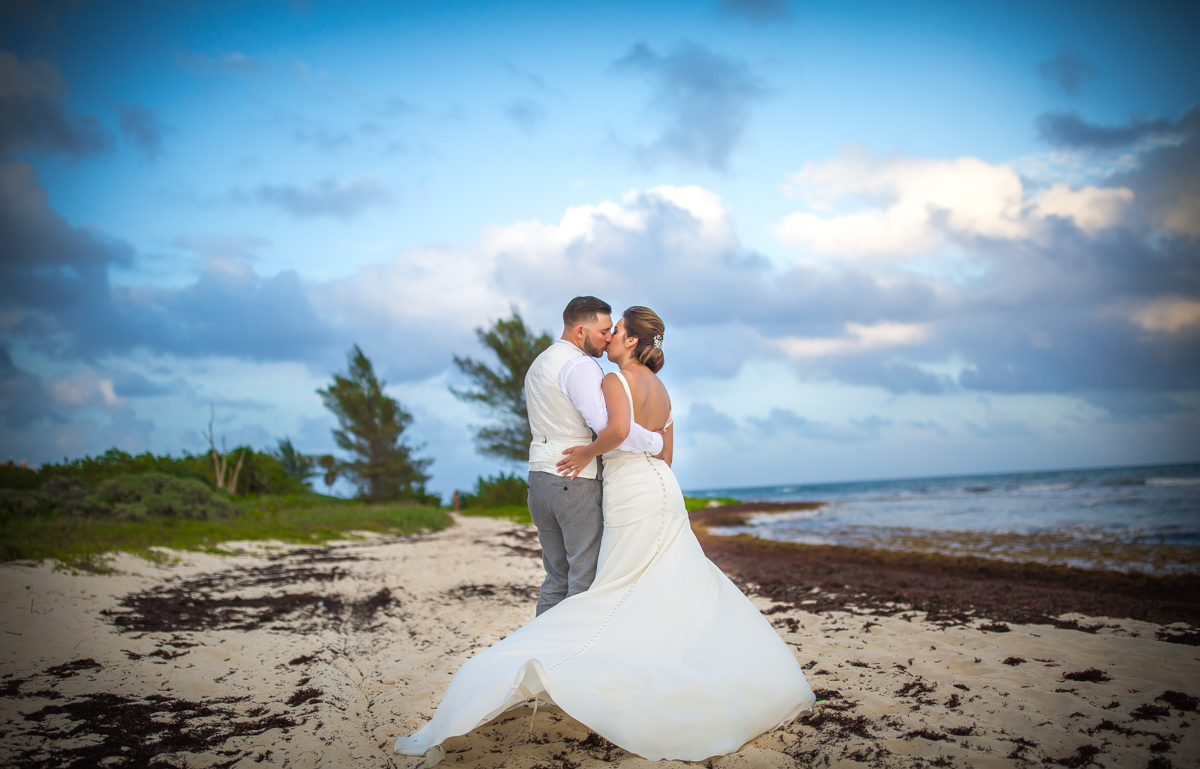 Get beach wedding dress inspiration on our Brides Gallery!
Be a barefoot bride!
Trying to decide if you should you wear heels or flip-flops at a beach wedding?
The correct answer? Neither.
There is a reason that barefoot sandals have taken the wedding industry by storm. Besides being beautiful, they are practical! When considering what to wear on your feet at your beach wedding, keep in mind that heels are going to sink straight into the sand (duh!) and flip-flops? Sure, if you want to be kicking sand up under your dress all day long! Do yourself a favor, and go barefoot for all parts of the day that involve you being in the sand.
(We absolutely love these barefoot sandals from Milanoo, plus they have your something blue!)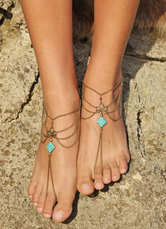 Don't be a sweaty mess!
There's a bit of a catch 22 to this getting married on the beach thing. If Mother Nature smiles on your wedding day, and you get the beautiful, sunny day you are praying for, then chances are it will also be HOT! Hopefully, you and your groom have chosen what to wear to a Cancun wedding carefully, because most days in Mexico are seriously HOT!
And your wedding day is not the time to let them see you sweat!
Keep the following in mind:
1. Keep makeup natural and light. Think you, only kicked up a notch. Heavy makeup on a hot day can leave you looking like the Wicked Witch of the West. ("I'm Melting!") And keep blotting pads handy.
2. Wear waterproof mascara. Don't argue. Just do it.
3. Dust everything with baby powder, and keep it with you in your beach wedding emergency kit. It will set your makeup. Applied before deodorant it will help with sweat. Dusted on legs and arms will prevent sand sticking to you. And sprinkled between the thighs will help with the dreaded 'Swamp-Crotch'.
Download our FREE Ultimate Guide To Getting Married In The Riviera Maya

Lauren & Chris' wedding at Villa Bellamar
A win over the wind!
One of Mother Nature's many beach bounties you need to respect is the wind. Sure ocean breezes can be refreshing and romantic, but they can also be a trouble maker!
1. Windy gusts can wreak havoc on your carefully coiffed tresses. A bride who wears her hair down at a beach wedding is setting herself up for the frustration of loose strands in her face at the most inconvenient moments. An updo finished with pretty flowers is what we recommend. And while we're at it, skip the shiny lip gloss. It will only act as a flytrap for any loose hair, or beach debris the wind picks up.
2. As you stand in front of friends and family to say your vows, the wind can snatch your words away as quickly as they are spoken, leaving your guests with the frustration of reading your lips. Solution? Use a microphone. Wedding Planner Amy Rubins tells us, "Not planning to have a microphone for the ceremony is a mistake. People always turn shy and can't be heard. Guests complain all the time that they couldn't hear the ceremony."

Kayla & Glenn Adam's wedding in Cancun
Staring at the sun!
Where will the sun be during your wedding ceremony? Make sure you know the answer to this. Why? A recent wedding of ours had all of the wedding guests set up to face directly into the mid-afternoon Mexican sun. No bueno, let me tell you! They were not a happy and comfortable bunch. Keep in mind, however, that you also don't want to be a blinded bride and groom either.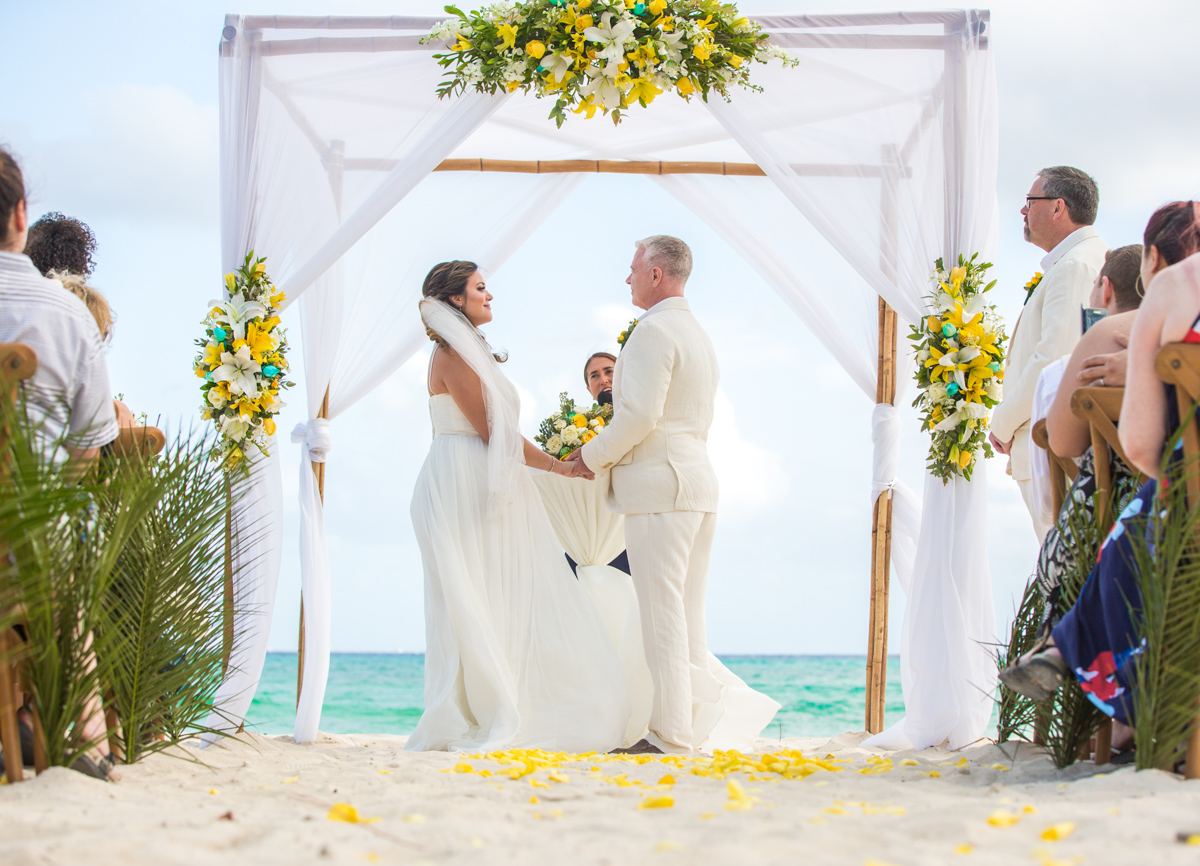 Safaa & Al's wedding at Grand Coral Beach Club
Avoid your arch enemy!
I am assuming that you probably plan to stand under some sort of arch, awning or chuppah during your wedding ceremony, and they can be a beautiful compliment to a beach backdrop. However, to avoid any heartache with your wedding photos later on there are a few things you should know:
1. Avoid draping a colored material over the top of your awning. When the sun shines through, it will cast a different hue on your faces as you say "I Do", which can be an impossible mess to edit later on. Unless you are happy to have all of your ceremony photos be in black and white, choose a sheer or translucent fabric in some shade of white.
2. Avoid using an arch that has beams across the top. Why they even make them this way is beyond me! All this serves to do is create vivid zebra stripes across anyone standing beneath, and photoshop will not be fixing that.

Caitlin & Bart's Playa del Carmen wedding
Lots of looky-loos!
Do you picture an intimate beach wedding, or do you have a vision of getting married on the beach that does NOT include an audience of strangers in bikinis and banana hammocks? If so, you may need to do a little wedding venue research on how to assure yourselves some privacy.
Newsflash: All beaches in Mexico are public property. There is no 100% guarantee that outsiders won't be watching you get married, but your chances of controlling this are far better with a private wedding venue, like a beach club or villa than if you choose the all-inclusive resort wedding option.

Darcelle & Justin's Riviera Maya wedding
Light it up!
Top Riviera Maya wedding planners agree, lighting is one area that beach brides never think about, but is crucial for a beach wedding reception and for great photos.
"Lighting can be expensive. Most brides do not budget for this, and then end up going over budget."
So add a line on that wedding budget spreadsheet for lighting! And check out The Knot's lighting ideas for outdoor weddings.

See more from our Newlyweds portfolio
Are they any hidden fees?
Do you worry about the little hidden costs of a destination wedding?
Do your detective work, and make sure that you ask up front about permits and fees if you want a beach wedding. Here in the Riviera Maya, if you are getting married at an all-inclusive resort, you will be paying an outside vendor fee to use your preferred photographer, florist, DJ…you name it! For more information and helpful advice on this, read our article about Outside Vendor Fees.
Is there anything on this list that made you think "Hmmmm, I hadn't thought of that?" Tell me about it in the comments!
And if you are looking for the best Playa del Carmen wedding photographer for your beach wedding in the beautiful Riviera Maya, Mexico, contact us today! We are Fun in the Sun Weddings, for the best Riviera Maya wedding photography.
Download our FREE Ultimate Guide To Getting Married In The Riviera Maya
This post contains affiliate links, and we will earn a commission if you shop through them ~ think of it as a tip for bringing you awesome content!