Wedding planning.
Yikes!
Former brides might feel their stress levels rise just at the thought! If you are a bride-to-be in the early stages of planning your wedding, and still debating whether you should you pack your bags to say 'I Do' in sunny Mexico, or just stay close to home to married, then read on…
Newsflash! No matter what you decide, there is going to be an element of stress involved in planning your wedding. That's just the nature of weddings. With this reality in mind, let's look at how to minimize your stress by answering the question: Is Planning a Wedding in Mexico more stressful than getting married at home?
The short answer to this is: It depends on YOU!
First, let's identify the type of Bride who would find getting married on a beach in Mexico to be MORE stressful:
The bride who wants total control over planning her wedding
Think about it: You will be there, and your wedding will be here. Unless you plan to fly back and forth to Mexico repeatedly during your engagement, you will need to trust the advice and expertise of the wedding industry professionals who live and work in Mexico. You need to feel comfortable with:
Not seeing your wedding venue until you arrive in Mexico
Meeting your vendors (like your wedding photographer) for the first time on your wedding day
Even the best wedding resorts in Mexico will assign a coordinator to you, and since they have A TON of weddings on their schedules, emails are rarely returned promptly.
Your connection to everything and everyone involved in your wedding will be online
The bride who expects everyone to attend her destination wedding
Another newsflash: Not all of your friends and family will be thrilled that you are getting married on the beach in Mexico, for many reasons:
Financially difficult
Time off work might be impossible
Misunderstand the safety of Mexico
They could be nervous travelers
Some of your favorite people might not be by your side as you get married, and you should prepare yourself for a dwindling guest list throughout your engagement. (More on how to cope if people kinda hate you for having a destination wedding)
But thankfully, this is where the stress of planning a destination wedding ends. If you are the kind of Bride who can go with the flow, then you will most likely find that planning a wedding in Mexico is far less stressful for you than planning one at home.
Why is that, you ask?
Download our FREE Ultimate Guide To Getting Married In The Riviera Maya
The cost of getting married in Mexico is less than with a traditional wedding
"I am not worried about my wedding budget," said no bride – ever!
Consider The Knot's breakdown of the cost of getting married in Mexico and you will see how this can be far less than the price of an at home wedding. If saving money is top of mind for you, then there are ways of having a beautiful, but inexpensive wedding here.
You will likely have fewer guests attend, and that equals less money
Less decor (expensive!) is needed overall because the scenery is really all you need
All inclusive resorts for weddings will offer free incentives and upgrades when you book yours with them
Combine your wedding with your honeymoon. More bang for your buck!
Talk about bringing down the stress level! If saving money with affordable all-inclusive destination wedding packages isn't a compelling enough reason to get out of town, well then I don't know what is.
All inclusive beach wedding packages simplify decisions
Imagine simply choosing all-inclusive wedding package 'A' and knowing that all the little details are taken care of for you.
flowers
cake
food
cocktails
tables & chairs
napkins, silverware, flatware
service
ceremony & reception locations
technical aspects like microphones, lights and music system
You can strike them ALL off of your wedding planning list! Imagine how you and your fiance will enjoy the weekends during your engagement when they are free from planning for every little detail!
A destination wedding relieves the pressure of one day
When you get married at home, your wedding day will come and go in a flash. So much energy put into one little 24 hour period, and then just like that, it's over. Think of all the 'What If's' that can happen to one day: It could downpour rain, or you could get sick.
But when you get married on the beach in Mexico, you get to stretch out the whole wedding experience, and turn your wedding day into the vacation of a lifetime! Wedding day hiccups (and there will ALWAYS be hiccups!) get diluted among the surrounding days spent playing in paradise with your closest family and friends.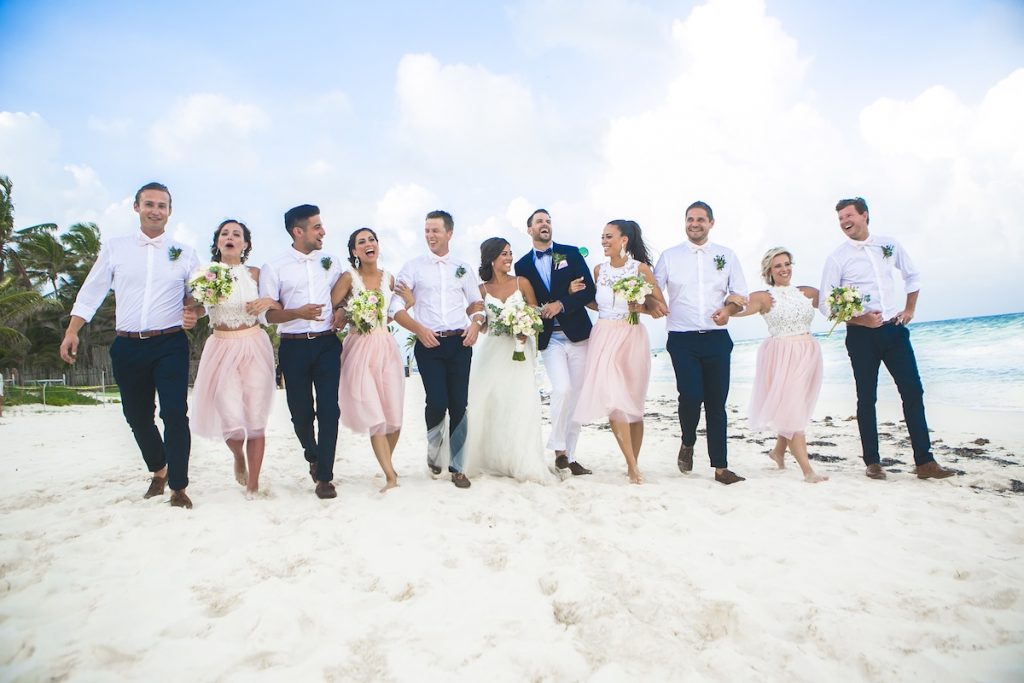 A destination wedding in Mexico is an excellent option for keeping down the stress of wedding planning, and one of the best places in Mexico to get married is right here in the Riviera Maya! If you choose to get married on the beach, check out our guide on how to plan a destination wedding.
Simplify your search for the best Riviera Maya wedding photographers for your beach wedding, and contact us today! We are Fun In the Sun Weddings, the best Playa del Carmen wedding photographers.
Download our FREE Ultimate Guide To Getting Married In The Riviera Maya