Brides, Grooms, Faithful Readers & Friends—I think it is time that I share with you the story of our own destination wedding, since this week it is our wedding anniversary. Marc and I were married 7 years ago in what will always go down as one of the most mind boggling moments of our lives. The movie 'The Hangover' came out in theaters a few months after our wedding, and I'm sure that this tale will have you drawing comparisons. I wrote this all down about 4 months after our wedding, mainly because at the time recounting the experience to people just upset me. Putting pen to paper, (or fingers to keyboard if you will!) was a wonderful catharsis. And enough time has passed that I can laugh about all of this now.
I hope you enjoy the read…
Finally, it is my Big Day! I am minutes away from my big moment, when I will be led down a staircase in a lavish Vegas country club by my father, to stand in front of my closest family and friends, and become a wife to the man I love most in the world.
That is, if he makes it.
I have just been informed that he is the real reason we are running almost two hours late for this ceremony. This discovery hardly even fazes me, as it comes on the heels of a less than perfect day.
But seriously, if we don't get this show on the road soon, we will be completely out of daylight for photos, making this whole destination wedding thing kind of pointless.
Downstairs, guests have been waiting for hours now, and disaster lurks right around the corner for several of them absolutely destroying the open bar tab.
Elsewhere, a lawsuit is being launched over my crumbled reception.
And all this, after so much preparation! This is, after all, the FOURTH wedding we have tried to plan for ourselves in the last sixteen months…
But I am getting ahead of myself. Maybe I should explain how I came to this particular moment in time…with this disclaimer; if you are a bride-to-be who is the worrying type, already stressed aboutwhat could possibly go wrong on your wedding day, then STOP reading this NOW.
For the rest of you, please proceed with caution.
Unlike many of my girlfriends, I did not grow up romantically dreaming about my wedding day. Having watched each of my parents get divorced twice, I was pretty skeptical of the whole 'Marriage Thing'. Engagement was not even on my radar, even though Marc and I had been together for six years at that point. So when he proposed to me on my birthday in Mexico, I was completely flabbergasted! I call it my Charlie Brown moment. He presented me with a 127 year old family heirloom ring, and says something like "Wanh, wanh, wanh, wanh, wanh".
My response? "If this is a f***ing joke, it isn't funny."
Of course, after the initial shock passed, I said YES. (Thank goodness!)
Wow. I had a Fiance!
I can honestly say that I loved the first six weeks of being engaged. Who wouldn't? You are the center of attention, dinners and parties are thrown in your honor, women squeel with excitement wherever you go, and you are more in love than you have ever been in your entire life.
And then the wedding planning starts. (Deep dramatic sigh.)
Little did I know that we were embarking on an adventure which would test our patience to the limit, and every vow we were about to promise to each other. There simply isn't time to share with you the stories of great friendships ruined, petty misunderstandings, or the demotion of the best man….let's just stick to the basics.
Wedding Number One was to have been a small, intimate affair at an ecolodge in the Mexican jungle. Although our friends had all verbally committed to attending, when it came down to giving us the required deposit, too many of them flaked out to make the event financially feasible for the rest.
Scratch Wedding Number One.
We were devastated, and chose not to even speak about the wedding for a good couple of months.
Wedding Number Two was the next most sensible option, we thought: Elopement.
(Oh, how I wish we had just stuck with Wedding Number Two!)
We cleared our plans with our families, and they supported our decision. However, then concerns started to emerge. Firstly, my Maid Of Honor strongly insisted that there would be three of us present at the wedding ceremony; me, him and her. And then there was the night my Mom had too many glasses of wine, and tearfully pleaded with me to please let her see her only daughter get married.
Scratch Wedding Number Two.
Wedding Number Three was planned for a different location in Mexico, this time at my father's vacation home. Months before the date we took three weeks to go down and make the necessary preparations, figure out vendors and details, and to meet with our wedding planner. It all seemed to be coming up roses, until the wedding planner emailed us two days before our return home to Canada to inform us that she felt she would not make enough money with the budget we had laid out, and so good luck to us. However, in her boundless generosity, we were welcome to use her vendors, with a twenty percent commission paid to her.
Scratch wedding number three.
And finally that brings us to Wedding Number Four!
A friend of a friend, who had heard of our troubles, offered up her in-law's mack daddy million dollar condo in Vegas as a possible wedding venue.
Well, we bit! Everyone booked flights, and the two of us, with the help of our best friends, worked tirelessly to put together not only a fun and fantastic wedding day, but also almost a week's worth of crazy Vegas activities for our wedding guests.
Download our FREE Ultimate Guide To Getting Married In The Riviera Maya
Now, FYI, this is how it was all supposed to go:
1. Wednesday – Fly in one day ahead of all the friends and family with our Best Man and Maid of Honor. Party hard all night.
2. Thursday – Forty wedding guests arrive. We have a gigantic Stag and Doe (Bachelor/Bachelorette) and party hard all night.
3. Friday – Rehearsal dinner. See a show. Retire early. NO partying hard all night.
4. Saturday – Wedding Day! In the morning the boys go off to the gun range to blow off steam. The girls get gussied up at the condo, do hair, wrap bouquets etc.
5. The wedding ceremony takes place poolside at the adjoining country club, conducted by a close friend, with our own written vows.
6. Wedding photos before sunset, by a professional photographer friend we were bringing from home.
7. A casual reception to follow in our condo, with local wedding vendors, a ton of booze from Costco, and food catered by the country club.
8. Limo buses to take us all on a tour of the Vegas strip for fun wedding photos, and then drop us at the after party.
9. New husband and I stay on in Vegas for a few more days after everyone leaves as a bit of a pre-honeymoon, before flying to Costa Rica for our actual honeymoon.
Sounds fun, right?
Well, hold onto your socks. This is where the story gets interesting…
Three weeks before the wedding, I come home from my Bachelorette weekend to find my Beloved miserably hungover, and complaining of chest pain. He had a 'Gentlemen's Night Out' in my absence, and has a vague recollection of falling down a few times. His chest pain persists into the next day, at which point he goes to the doctor to see if he has perhaps broken a rib. The doctor looks at his xray, and tells him that 'No, his ribs are just fine. However, it appears that his lung has collapsed, and is there anyone they can call to meet him at the ER?'
(Note: This was one of those pivotal moments when I knew I was definitely ready to get married; hearing the news that my Fiance was being taken to the hospital and the emotion I felt. Strange but true!)
A fun filled night in the hospital ensued, complete with me holding my husband-to-be's hand as they cut through his ribs and inserted a tube into his chest to re-inflate his lung.
The doctors assured us he would be good as new in no time, and as long as we had no plans to fly anywhere inside the next three months, that he could expect a speedy recovery.
HOLD ON! I gave my head a shake. I was having another Charlie Brown moment. 'Wanh, wanh, wanh.'
"Excuse me?" I said, "By plans to fly, do you mean like the non-refundable flights we have for our Vegas wedding in three weeks, or perhaps the non-refundable flights we have for our Costa Rican honeymoon next month? You mean like those kinds of plans to fly?"
Didn't I promise you the story would get interesting? And this is only the beginning…
So, obviously we had an issue with cancelling another wedding, especially three weeks out. Therefore, the only option left available to us, aside from risking my Fiance's painful and uncertain death on an airplane, was to drive over 1600 kms from Vancouver, Canada to Las Vegas. Yup. And we had to eat the non-refundable flights too. But that's okay, I mean, who doesn't have a ton of extra cash sitting around in their wedding budget a few weeks before their wedding?
We hit the road on a Monday. On late Tuesday afternoon, with 23 hours of driving behind us through some of Middle America's most exhilarating prairie and desert landscapes, plus a bonus overnight stop in a town straight out of a Stephen King novel, we finally pulled into Las Vegas. WOO HOO! After hauling our gear up to the stunning condo that would be home for the next ten days, and screaming around the space like a couple of teenagers left alone for the weekend, we poured ourselves a couple of stiff drinks and prepared to head out for a night in Sin City!
But not before my fiancee checked his voicemail.
That all too familiar look on his face said it all: We had a problem.
As it turned out, our photographer friend from home had chosen to take a bus (seriously?) to Vegas instead of flying so that he could save a couple bucks. This was a decision we had been unaware of. Apparently that morning he had run into a mean border guard who would not let him cross into the grand ol' USA with all of his equipment, arguing that he was taking jobs away from Americans. Our photographer regretted that he would not be able to fulfill his contractual obligations for our wedding. Perhaps now is the time to mention that my husband is a Wedding Photographer by trade, and photography was unarguably the number one most important element for our wedding. After 23 hours on the road, all I could effectively deal with at that point was a double bourbon on ice at the roulette table, so we called in the assistance of our tireless band of Keebler Elves, who managed to work through that spectacle without us, and get our photographer booked on the next flight out.
Disaster averted.
Everything went pretty smoothly over the following days…er, well, for Vegas I mean.
In between awesome dinners, bottle service in the hottest clubs, and far too little sleep, we managed to find the time to stand in line with a genuine motley crew at the marriage license office, clean Costco out of booze for the condo reception, and get ourselves organized with the wedding coordinator.
— With only two minor incidents to speak of:
During the ceremony rehearsal, my maid of honor and I shared the claustrophobic experience of being stuck in our condo elevator, and were berated by a front desk clerk who thought we were incapable of pressing the button for Lobby.
And then, in an entirely unrelated elevator incident, my Fiance got in a friendly wrestling match with his buddy that ended in a bruised eye and a nasty, bleeding gash across his nose. It looks awesome in our wedding photos.
That brings us to our Wedding Day.
I had had visions of going to bed early the night before, waking up smiling and refreshed with birds singing outside my window announcing the beginning of a beautiful spring day.
In reality, my head pounded, and my stomach swam bitterly with whatever cocktail I had overindulged in until way past my bedtime the night before.
The man who would become my husband in a matter of hours seemed even worse.
And the clouds threatened rain. In the desert.
Score— Vegas : 1 / Bride & Groom : 0.
I insisted that we had to suck up the self inflicted state, and get the condo ready for the reception, which by now was only hours away. The boys were supposed to head out to shoot guns, remember, but with the chaos of preparation and an insanely late night had by all, that plan went down the drain. Instead, it appeared that both the boys and the girls would be getting ready in the same apartment, but in separate wings. I rubbed my groom's back for a little bit because he really was in a bad state, and then kissed him goodbye to go get gorgeous.
The storm clouds above seemed a foreshadowing of impending doom as my maid of honor returned from buying flowers for the bouquets, and could not clear security to return to the premises. This incident was followed shortly thereafter by the hair and makeup girls running into the same problem. I called our wedding coordintor downstairs at the country club, and asked her to fix this problem asap, as she was responsible was providing security with a list of all the names of our wedding guests and vendors. She was flustered and insisted that she had indeed done this, twice, but reassured me that everything would be fine, and she would take care of it. At this point, I was more than a little worried about having this problem occur every time a guest arrived at the gates.
Long story short, hair and makeup arrived, but the girlfriends who had promised to help wrap bouquets did not, and so amidst pins and hairspray, we enlisted the help of our photographer to create our beautiful bouquets. They turned out pretty great, and he was starting to redeem himself for the "Bus To Vegas" fiasco.
As it turns out, our photographer is also and EMT, and I was getting the feeling that my groom was in worse shape than a simple hangover could bring on. He was refusing to eat his breakfast, and if you were familiar his eating habits, you would understand why that concerned me. So the Photographer / EMT/ Florist put down his camera, and began tending to the groom, trying to get him to drink juice and eat a little toast. Mainly, everyone was worried about the state of his lung, but his vital signs seemed fine. I was assured that he would be alright with some sustenance in his belly.
In my own wing of the condo, I was a bundle of nerves with a wedding hairstyle that I was unhappy with, and a gloomy day still threatening showers outside.
And then the phone rang.
"Hello?" I said.
"Hi…are you sitting down?" said the wedding coordinator.
"Why?" I asked cautiously.
"Listen, I am so sorry. Nothing like this has ever, ever happened to me before…." she began.
"What?" I interjected with dread.
"Okay, look, the owners of your condo apparently were unaware that certain formalities needed to happen between the country club and the strata, and so, well, you are not going to be able to have a reception in your condo." she blurted out.
I remember only silence. I thought I was going to pass out.
"Can I call you right back?" I whispered.
I hung up, white knuckled from my grip on the chair and from the look on my maid of honor's face I can only guess at what must have been written across mine. She ran to the fridge for champagne.
When I called the coordinator back she explained that a reception could still be salvaged. They had a room available downstairs at the country club, however, we could not use our own bartender, nor our own alcohol. If we wanted to have an open bar, which I insisted we did because it felt inappropriate to charge our destination wedding guests for their drinks, then it was going to cost us an additional four grand. FOUR GRAND!
I would like to think that up until that particular moment, I had handled all the little mishaps of the last sixteen months with at least a modicum of grace, but this was a catastrophe! How much is one bride supposed to endure, really? I was balancing precariously on the edge of sanity.
It took several strong mimosas to stop me from shaking, and bring me back down to earth.
Every cell phone in the house screamed until a resolution to the reception calamity was reached. The condo owners were understandably furious with the strata, and immediately launched a lawsuit. They offered to pay for our open bar in the hopes that they would recoup their loses through the legal system. So, the wedding reception would be moved downstairs to the country club.
Meanwhile, on the other side of the condo….
….the groom was still struggling. Everyone insisted he was just fine, but I was getting the sinking suspicion that this might not be the case. Family had begun to arrive as planned to take some casual wedding photos before the ceremony, but instead they all moved to damage control. I had my brother and sister-in-law, who are both medical professionals, look in on the groom. They concluded that his blood sugar might be low from not eating, but reassured me that his lungs seemed unaffected, and repeated the popular prognosis that he would be fine.
As an additional treat, my youngest brother arrived with an unplanned guest whom I did not have worked into my budget, wearing the two colors I had specifically requested the family not wear. Everyone looked to me for a reaction, but I simply could not be bothered.
I was told that due to the changes with the wedding reception, our wedding ceremony needed to be pushed back by half an hour. I had to dig deep to find that tiny speck of patience that was left in me.
Well, half and hour dragged tortuously into an hour, but again I was promised that my fiance was fine and not to worry. Would I care for more champagne?
Although we were running really late, I was assured that all our guests were present and happily indulging themselves downstairs at the open bar. Zero hour was fast approaching.
A little of the threatening rain came and went and then thankfully the skies appeared to be clearing. However, the sun was getting low on the horizon. Now I worried we were running out of daylight for our photos. I announced that it was time to get dressed…to no one in particular. Where the heck was everybody anyways?
Oh right. Tending to the groom. Who I am not supposed to worry about, because he is totally fine.
Alone, I put on my beautiful wedding dress in a small bedroom. I was aware that being helped into my wedding dress had been on my desired photography shot list, but everything was beginning to feel a little less important now.
With a final insistence from friends and family that the love of my life was fine, the last of my patience expired. I decided that I was ready to leave for the ceremony. Now. Right now. Somebody find the photographer, I am ready! A flurry of activity…they understood I meant business! Downstairs in the gardens, we snapped a bunch of photos of me with my family, and then dashed inside to our new reception site, lest my beloved see me as he came down from the condo with his entourage.
Then we waited. And waited. This was agony!
I had been peering out a country club window, anxiously trying to get a glimpse of the wedding ceremony set up below, when my father approached me with the news. He spoke to me calmly.
"Sweetie," he began "There is something that you need to know. Nobody wanted to tell you because they were afraid of how you would react, and I have only just found out myself and think you have a right to know. The groom is having a panic attack, and he is okay, but all this delay has been due to waiting for a doctor to arrive. The doctor is here now, and I understand that he is going to give him something to relax him. He should be ready in about twenty minutes. Okay?" He gave my arms a little squeeze.
Strangely, I felt at ease with this news. I breathed a sigh of relief, because I knew that something was wrong, and now I knew what it was. I could deal with this.
"So his lung is okay?" I asked. And he promised me that yes it was.
Suddenly all the events of the day began to melt away. Every mishap became inconsequential when I realized that I came this close to not having a groom!
Download our FREE Ultimate Guide To Getting Married In The Riviera Maya
Upstairs, the doctor had arrived, and was preparing to administer who-knows-what kind of drug into my fella's system. He absolutely hates needles, and so cringing he looked away as he held out his arm for the injection. The doctor laughed, and told him to drop his pants. We have more pictures of the doctor slapping his butt and then sticking it with a needle, than of any other single event from our whole wedding day. Unfortunately not one of the amateur photographers thought to question what the doctor was giving him, or why it wasn't something simple and effective like Valium. Later, we concluded that in the absence of any available doctors, we were probably sent a Veterinarian.
I was happily singing 'Going to the Chapel' in the reception suite with my Mom, and a few of my closest friends, when my Dad appeared and told me were ready. Finally.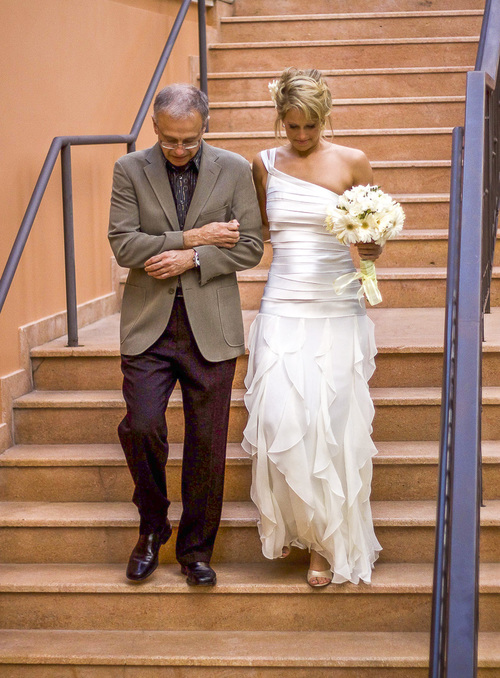 Standing at the top of a staircase, holding my Dad's arm, I tried to take in everything about the moment. Against all odds, it appeared that I was about to get married! Confident, I stepped forward, and felt my legs instantly turn to jello. A cloud carried me all the way to the alter. I could not convince my eyes to look up from my unsteady feet. My face betrayed the enormity of emotion I felt, my lips twitching and twisting in an effort to fight off the tears. When I stood facing my groom I was trembling so badly I thought I was going to dislodge the daisy from my hair. But I sobered when I saw what rough shape he was in. He was very pale, making the new gash across his nose even more pronounced. With panic in his eyes, he mouthed the words 'I am gonna f***ing pass out.' I grabbed his hands, and held them, and his gaze, with such intensity throughout the ceremony. I could not possibly have meant every vow any more. We were married by a close friend of ours which made it even more special, and after he suggested that the groom should kiss his bride, all modesty went out the window. A lot of booze had fueled a lot of tears among the wedding guests, and blissfully ignorant of many of the day's events, one friend cried that 'It looked like we were taking it so seriously up there…me holding onto him so tightly, and him all hyperventilating…'
Following the wedding ceremony, my new husband had to go back upstairs to lie down for awhile. Whatever the Vet had given him seemed to have put him on a roller coaster ride. So much for wedding photos! We managed to snap about a dozen shots of me and my newlywed husband together, and in each one, he looks like he is going to die.
Our wedding reception was out of control. We danced and drank with abandon. I wish my husband could have been there to enjoy it! However the Veterinarian seemed to have a great time! I invited him to stay, and he proceeded to get drunk and hit on all of my girlfriends. Working with the cards I had been dealt, I was beginning to delegate some of the groom's tasks to willing participants. It wasn't too difficult to find a volunteer for the removal of the garter belt, and I was ready to teach my maid of honor the elaborate choreography involved in our surprise Bollywood style first dance. But like the trooper he is, my husband managed to return to the party just in time to fulfill his duties as groom, and to participate in the wedding speeches. We were about two hours behind schedule, and so we had to rush through all the special bits, one right after the other, but we made them happen, and for that I am grateful. I had begun to allow myself to believe that maybe, just maybe, all of the drama was finally over…
The Universe responded to my optimism with an ominous "Mwah-ha-ha-ha-ha…."
The limo buses had arrived as planned to take us for a tour of the strip, and deposit us at our after party. Our wedding guests were fired up, and ready for yet another debaucherous Vegas evening. They drunkenly twirled and strutted their way down the country club stairs and out to the awaiting party buses, where the hedonism raged inside, with the music throbbing and women fighting for space on the stripper poles. They were all blissfully unaware that we had not moved anywhere for the better part of our very expensive hour. Outside of the limos we were addressing a small problem: The 72-year-old father of the groom had gotten so drunk at the reception, that after rousing himself from his face down position at the table, he managed to fall down the elaborate country club staircase, and break a rib.
Sigh.
So those wedding pictures we were hoping to get of bride and groom in front of Vegas' most popular sights? Yeah, no we didn't get those photos either. We were lucky we even had any time left to transport our group to the next destination. The groom, not feeling well enough to stay at the after party for more than half an hour, went home to lie down. I stayed to try and enjoy some of the event we had worked so hard to put together, but it wasn't the same without him. I left shortly after he did and went home to spend our first night as a married couple eating grilled cheese sandwiches, drinking tea, and recounting the events of the day.
The stories that emerged the following morning were a perfect compliment to our Vegas experience. First, a guest had taken home a girl he had met at the after party, only to wake up that morning dizzy from some kind of drug, and finding that she had stolen his wallet and drained his bank account. Then, my mother-in-law had innocently fallen into a scam at the slot machines, which left her holding two counterfeit twenty dollar bills, and answering a whole lot of questions in the security office. And finally, my baby brother has a vague recollection of stealing a golf cart, driving it down the Vegas strip, getting stopped by the cops, who then hauled him out to the airport in handcuffs, allegedly head butted him in the face and left him penniless and alone. He had walked back to his hotel.
…and those are just the stories that we did hear about.
You must be wondering, 'Are we done yet?' Bear with me, we're almost there.
So everybody leaves, many with a little less dignity than they had arrived with, and we are alone at last! We cozied up after a Jacuzzi with champagne and strawberries, intent on watching some snippets of our wedding video. We wanted to see the ceremony that neither of us could remember. So we were snuggled up together, rewinding, fast forwarding, and the time line didn't seem to make sense. Okay, there's the first dance…and here are the speeches…and…cut to our officiant saying proudly, "It is with the greatest pleasure that I now pronounce you Man and Wife."
Oh, you have got to be kidding me. Of course the ceremony got taped over, of course it did! I shed a couple of tears, and then all I could do was laugh with exhaustion over it all. As we drifted off to sleep, I began to get an uneasy sensation in my stomach. Ugh, I didn't feel well. I took some Pepto, and dozed off. Only to awaken to my digestive system convulsing and spasming in rejection of last night's dinner. Oh no. And my husband felt it too. Seriously? Yes, the universe had driven us one final blow: Food poisoning. We spent the next 36 hours completely engaged in one of the more intimate experiences that a couple can share. When we were finally able to move, we looked at each other and agreed, "Let's get the f*** out of Las Vegas!"
And we drove 23 hours home.
Four months have passed now since that blessed event. We were fortunate to get a doctor's approval to fly to our honeymoon in Central America as planned. We backpacked for three months, allowing us both the decompression we definitely needed. For a good month after the wedding, I would feel my pulse quicken and my blood pressure spike just thinking about the events related to that day. But it seems that the disaster that was our wedding is far enough behind us now that we can laugh about most of it.
Am I disappointed that my wedding day was such a mess? Well, yes and no. I certainly regret not having any photos of my husband and I on our big day that are worth framing. That makes me sad. However, believe it or not, it's possible for me to look back on it all now with a glass is half full attitude. At that incredible moment when I found myself standing in front of my family and friends, joining my life with that of my best friend, there was no doubt in this self-proclaimed Marriage Skeptic's mind that I wanted to be with him forever. At any of crossroads during our engagement, either one of us could have thrown in the towel, and said "Forget it, this is too hard. Let's just live together in sin." But we didn't. In the end, we knew that we both genuinely wanted to be married to each other to have persevered through all the stress, the problems and the disappointments. That we made it through such a trying time together, and came out on the other side of it stronger and happier than we were before, gives me unwavering confidence that we are one of the lucky couples who are going to make it.
Plus now we have a killer story to tell our Grandkids.
And if I ever start feeling jealous as I listen to a woman gush over her account of a picture perfect wedding, I will remind myself of the wisdom a fellow traveler passed onto us during our honeymoon: The worse the wedding, the better the marriage.
If that's true, then I am in for a lifetime of happiness.
There you go! I hope you enjoyed our story! We would love to hear your comments, and of course, if you are looking for an incredible destination wedding photographer in the Riviera, Mexico, then contact us today to book your date!
Download our FREE Ultimate Guide To Getting Married In The Riviera Maya