Are you planning a Riviera Maya wedding during the Caribbean's rainy season?
Although the Caribbean hurricane season technically runs from June through November, it is mid-September through mid-November that us locals know to be the soggiest time.
Predictably, around this time of year, there comes a spike in posts, emails & questions by panicked brides planning a destination wedding, scrambling for advice on how to deal with an ominous weather forecast.
It is for you, my worried Beach Bride, that I offer these seven tips for dealing with a rainy beach wedding.

Shane & Brandon had rain at their Tulum wedding
1. Keep Calm and Ignore The Weatherman
It's funny how often a friend or family member points out that we have been getting a lot of rain because they see it in our weather forecast.
Usually, I'm like "Huh? What rain?"
Just for fun, check out the extended forecast for Cancun or Playa del Carmen.
What do you see?
I would be willing to bet there is some variation of a cartoon cloud on any given day of the year.
The Riviera Maya is unlike any place I have ever been before. (And I've travelled to a lot of places!) The weather is beyond unpredictable! Right now, looking out my window I see beautiful sunshine, but I know that in ten minutes we could be having a torrential downpour!
There have been countless days where I have watched black clouds looming directly overhead, rumbling with thunder promising one heck of a storm, and then — Nothing. Not even a drizzle.
In the same strange way, I have been playing with my son in the pool under the blazing Mexican sun when we are suddenly, mysteriously being rained on, with no clouds in sight!
The point is, it's almost impossible to predict if you are going to get rained on when you're getting married in Cancun, or if it will even be enough to be a problem (see below) so don't panic if you see rain in the forecast.
If you plan to get married on the beach in the Riviera Maya, it is best to expect the unexpected with the weather, and just take the forecast with a grain of salt.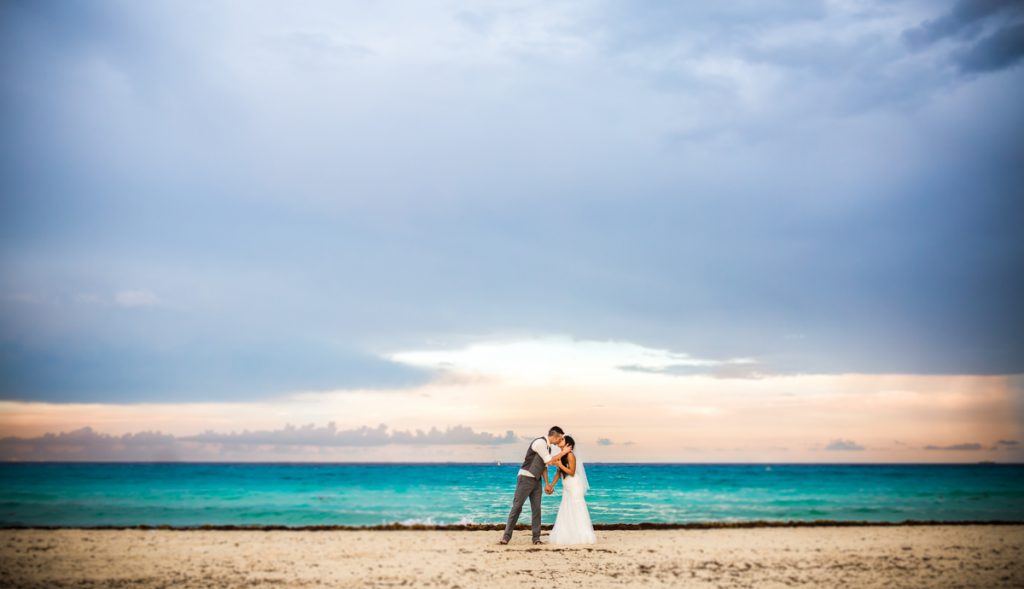 Karen & Jonathan had rain at their Playa del Carmen wedding
2. Just a sprinkle
With this crazy, unpredictable weather in mind, you need to understand that more often than not, when it does rain here in Playa del Carmen, it is usually just a sprinkle or a short, furious downpour. My husband and I are originally from Vancouver, Canada, and there when you see the gray clouds roll in you had better get your favorite shows lined up on Netflix, because you are gearing up for days, weeks, or even months of dreariness! (Hence why we packed it all in and moved south!)
Thankfully, this is not the case for the miles of beach stretching from Cancun to Tulum. Yes, you may get rain on your wedding day, but odds are that it will not ruin your beach wedding.
Kayla & Logan had rain at their Puerto Aventuras wedding
3. Tinker with the timeline
Okay, worst case scenario:
Let's assume that your wedding day has arrived, and the clouds are threatening rain, the Weatherman is promising rain, and the locals all concur.
Panic sets in.
Listen, the odds are still in your favor that a short burst is all you have to contend with, so consider shuffling the wedding day schedule. Sometimes all it takes it moving the ceremony back an hour or switching the photography timeline to avoid a soggy wedding dress. As The Knot suggests, talk to your wedding planner, and explore your options.
If the forecast calls for a 10% chance of rain at 1pm, and a 90% chance of rain at 4pm, then you have a rough idea of what will need to be moved to when. If you have chosen your wedding vendors with care, chances are good they will accommodate you however they can. Which brings me to my next point —
Download our FREE Ultimate Guide To Getting Married In The Riviera Maya

Lauren & Chris had rain at their Akumal wedding
4. Forewarned is forearmed
— And this is perhaps the most critical tip! The time to learn about your wedding planner's, photographer's, or venue's rainy day back up plan is not, I repeat NOT when you are four days away from saying 'I Do!'.
No. The time to learn about your vendors' rainy day back up plan is before you hire your vendor!
Every wedding professional in the Riviera Maya has some level of experience in working with rain. It comes with the territory when you work in the tropics. How your team handles Mother Nature's unpredictability can make a huge difference in the outcome of a rainy beach wedding.

5. Sometimes it is to be 'Plan B'
You want to get married on the beach in the Riviera Maya.
I get it; you want to feel warm ocean breezes on your skin and the late day sun kissing your cheeks, as you exchange vows with your feet buried in the sand.
But seriously, as beautiful as Mother Nature can be, she can also be a total Bitch!
I know you don't want to think about your Plan B. You want to focus on the perfection that will be your wedding day, and that's fine. I'm all about putting those positive vibes out into the universe.
Having a backup plan is in The Knot's Beach Wedding 101, and it will definitely eliminate a lot of stress for you if you consider a 'dry wedding' plan that you can live with. If you know your worst case scenario, then it takes away a whole lot of the stress and worry that comes with planning a wedding outdoors.

Jamie & Gillis had a huge storm at their Riviera Maya wedding, so we just did their Newlywed photos the next day!
6. Look on the bright side of a rainy day
No matter what you do, or how much you plan, sometimes it just works out that you will get rain on your wedding day. What is a Beach Bride to do?
Does she mope, moan, sulk, and sigh?
Does she lock herself in her room and cry?
No. A Beach Bride doesn't.
She puts on a bright smile, and digs deep for a cheery disposition, keeping in mind that she has many guests who have traveled, and saved, and taken time off work to be with her on her special day.
She makes the best of it!
Go out and buy cute umbrellas like these for you and the bridesmaids to carry.

These will keep you all dry and look amazing in wedding photos! Do whatever you have to do to put a positive spin on the situation. Make good memories for everyone!

Emily & Clay had some rain at their Playa del Carmen wedding
7. Clouds are actually a good thing
From the wedding photographer's point of view, a cloudy wedding day is a dream! Cloudy days offer the best light, which equals you looking terrific in your wedding pictures! There will be no squinting into the sun while you say your vows or funny shadows across your face.
And the heat! Let me tell you, it gets hot, hot, hot here any time of year, and especially if you are wearing anything more than a bikini! Clouds and a little drizzle can actually be a welcome relief to a Bridal Party or their wedding guests.

Of course, if rain is in the cards for your wedding on the beach and all else fails, just remember that rain on your wedding day is supposed to be good luck! I'm a big believer in this, being happily married and having gotten rain on my wedding day — In the DESERT! Sheesh! What else can you do but just roll with it and enjoy yourself?
Let's hear it. Are you worried about rain on your wedding day? What's your rainy wedding day Plan B? Leave your comments below!
Are you looking for the best Riviera Maya wedding photographer for your beach wedding? Then contact us now! We are Fun In The Sun Weddings, for the best Riviera Maya wedding photography in Playa del Carmen, Tulum and Cancun.
Download our FREE Ultimate Guide To Getting Married In The Riviera Maya
This post contains links that may earn us commissions if you shop. Think of it as a tip for bringing you great content!