Are you getting married on the beach?
If you are in the midst of wedding planning, then you know there is a seemingly endless list of details that need to be considered, booked, and budgeted for.
Who knew that planning a wedding could be so much work?
Have you thought of everything?
Probably not.
Unless you are working with a professional wedding planner, then how can you possibly know what you don't know, but need to know…you know?
Today I want to share with you what two of the best and most reputable wedding planners here in the Riviera Maya of Mexico, shared with me when I asked them what most couples never even think to think about when planning their wedding. Both of them agree that this is a crucial element in any wedding, whether indoor or outdoor and will most definitely break your wedding budget if it is not planned for ahead of time.
What is it?
It's………Lighting!
Jessica & Brian's Akiin Beach Tulum wedding
Yazmin de la Mora, lead wedding coordinator at YD Dream Management tells me that "They (brides) might think about many details, but lighting is very important. I would say the same or even more important than flowers or decor, and they do not consider it in their budgets, or try to save money in that area….an awful mistake!" (Read other tips from Yazmin here.)
Download our FREE Ultimate Guide To Getting Married In The Riviera Maya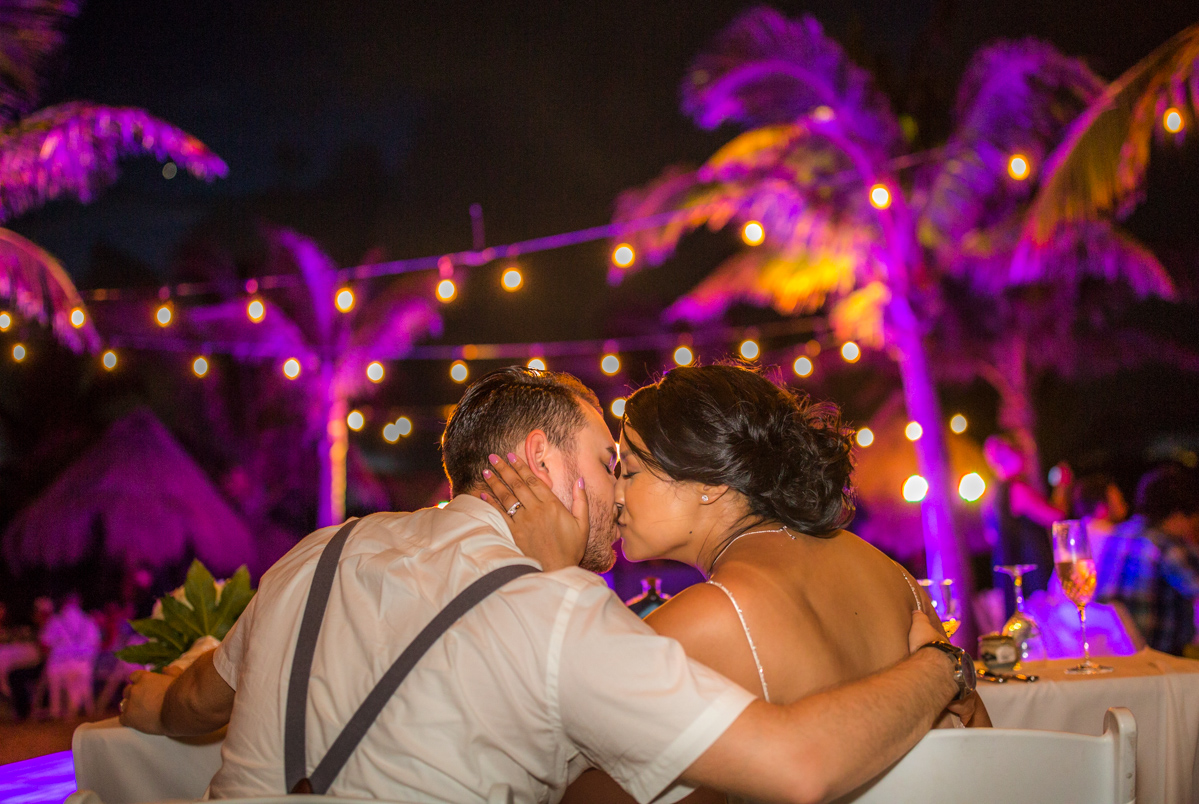 Darcelle & Justin's Playa del Carmen wedding
Planner Natalia Schweitzer of Wedding On The Beach agrees. "(Lighting) is expensive. Most brides do not budget for this and then go over budget when I mention the need for good lighting for photos and other things." (More of Natalia's helpful hints here.)
Yes. Sigh. Your wedding 'To Do' list has just grown again. But for warned is for armed, they say!
Now you know that there needs to be another line on that wedding budget spreadsheet; one for lighting. You can learn all about Lighting For An Outdoor Wedding in this excellent article by The Knot.
Safaa & Al's Playa del Carmen wedding
So I turn it over to you. Was lighting a surprise detail for you?
Had you thought to consider lighting in your wedding budget?
What are other details that have taken you by surprise?
Leave your comments in the notes below.
Are you looking for the best Playa del Carmen wedding photographer for your beach wedding? Then contact us now! We are Fun In The Sun Weddings, for the best Riviera Maya wedding photography in Tulum, Playa del Carmen, and Cancun.
Download our FREE Ultimate Guide To Getting Married In The Riviera Maya