Imagine that your destination wedding in Riviera Maya has come and gone.
What you have left now is the memory of an incredible vacation in Mexico with the people closest to your heart…and tons of wedding photos!
Displayed throughout your home are the most beautiful and emotional shots from your beach wedding; images of you and your husband caught in candid moments of happiness against a cotton candy sunset on a deserted stretch of white sand beach…
…but wait. What's that in the background?
It's a sunburnt, pot-bellied 'Looky-Loo' in a speedo!
This is not what you have in mind for perfect wedding photos, I'm assuming?
Well read on Dear Beach Bride, and plan ahead for what is most difficult to control when getting married in The Riviera Maya: The Environment.

Tick Tock!
Timing is everything for those magical sunset beach wedding photos.
The best Riviera Maya wedding photographers know that 'The Magic Hour' around sunset is both precious and fleeting. If you miss it, there are no re-do's.
I recommend that every bride consults their wedding photographer before settling on a time for the ceremony because we spend our lives on the beaches of Mexico and know by the clock how to capture the best light.
You can plan to go the traditional route, and have the ceremony before the wedding photos. Here, we recommend planning your ceremony at least an hour before sunset and going directly from the ceremony to beach photos.
But what if your wedding vision has you sealing the deal with a passionate kiss as the sun dips down over the horizon?
Well then, do your wedding photos before the ceremony in a photo session called 'The First Look' You will still get that amazing moment when you first see each other, I promise.

Kelly & Simon's Playa del Carmen wedding
Where's Waldo?
Who doesn't love a wedding?
Beautiful flowers, a beautiful bride, a joyful celebration; they draw attention, and especially if you are strolling down a stunning beach in Mexico and happen upon one.
You really cannot blame all the Rubberneckers, but you should definitely plan for them! Tourists in vacation mode are delightfully unaware that by taking in the romantic scene of your destination wedding, they are also putting themselves in the background of all of your photos.
The white sand that stretches from Cancun to Tulum is a public place, so consider avoiding Sundays and public holidays to cut down on the number of beach lovers. Have a diplomatic loved one in charge of keeping the area clear by politely speaking to those who set up shop in your shot.
However, if privacy is a priority to you, it is best that you stay away from the big resorts, and explore the best off-resort wedding venues, like a boutique hotel, golf course or an oceanfront villa for your nuptials.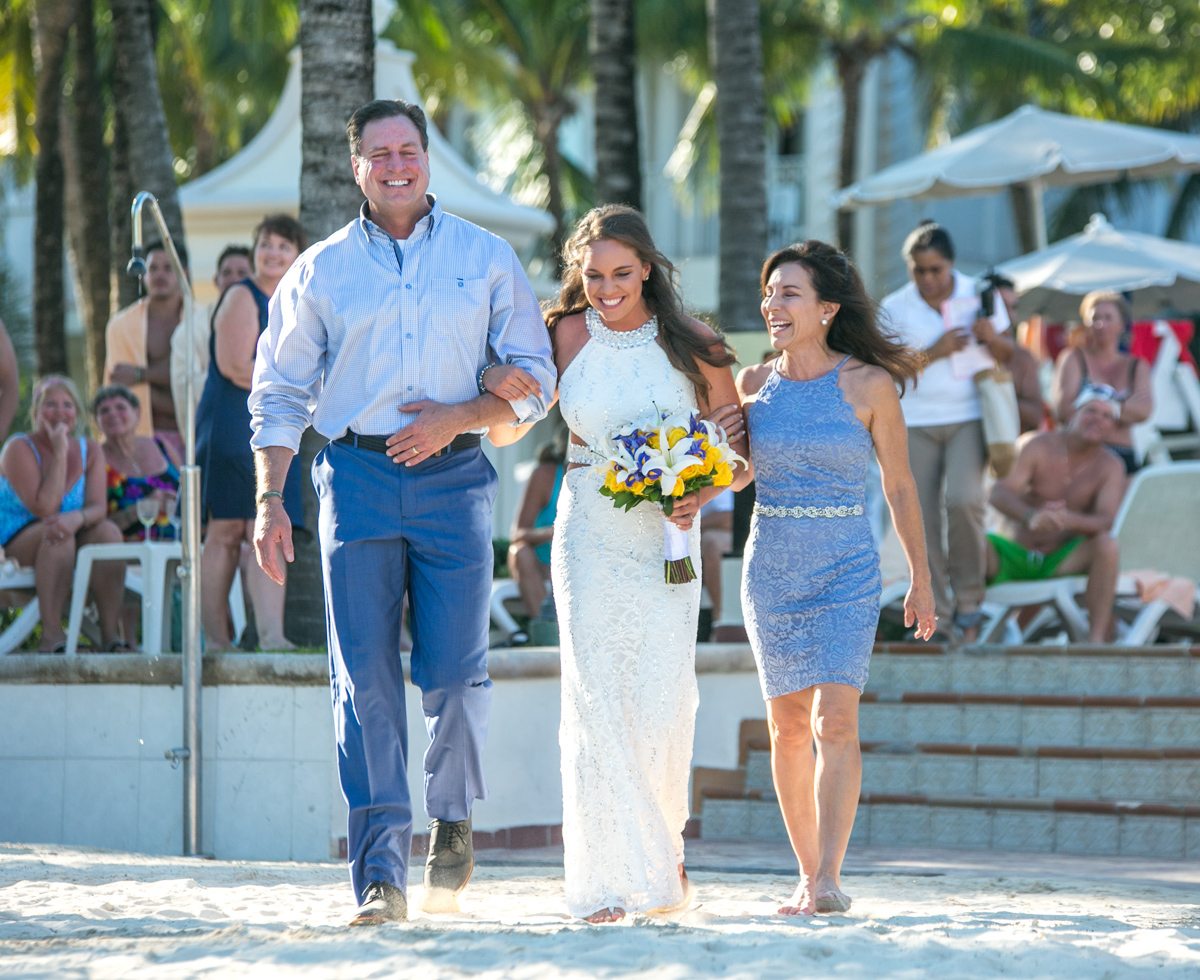 Caitlin & Bart's Playa del Carmen wedding
Download our FREE Ultimate Guide To Getting Married In The Riviera Maya
Manage Mother Nature
The Riviera Maya is one of the most stunning places in the world to get married.
However, like any other Caribbean wedding destination, you must consider that Mother Nature doesn't always co-operate. Be aware that there is a rainy season here, but that rain can happen any time, any day of the year. And boy can it RAIN!
Take off those rose colored glasses when you are in the planning stages. You need a backup plan that you will be happy with if you get a rainy wedding day. Stay open-minded to this outcome, so that you don't end up disappointed if it becomes a reality.
Shane & Brandon's Tulum wedding
Getting married on the beach takes a lot of planning! However, if you consider all of the tips and tricks suggested in this series, you won't find yourself caught unprepared. You will be able to relax and enjoy a worry-free wedding day.
Are you looking for the best Riviera Maya wedding photographer for your beach wedding? Then contact us now! We are Fun In the Sun Weddings, for the best Riviera Maya wedding photography in Playa del Carmen, Tulum and Cancun.
Did you read Part One in this series where I help with what to wear to your beach wedding?
Part Two, deals with keeping your wedding guests happy and comfortable.
What tips have you found most helpful in this series? We want to hear about it in the comments below!
Download our FREE Ultimate Guide To Getting Married In The Riviera Maya