I am often asked for my advice or recommendations on the best resorts to get married in the Riviera Maya. Having once been a destination wedding bride myself, overwhelmed with where to get married on the beach in Mexico, I can sympathize! So today I thought I would offer up some information to consider when pondering the question: to All-Inclusive or not to All-Inclusive?
Chances are that you have already started researching destination wedding packages from Cancun to Tulum. Beach weddings are BIG business down here in the Riviera Maya! In fact, The Knot revealed in their 2015 wedding statistics that 23% of all engaged American couples are now choosing the destination wedding option. It seems that in the Mayan Riviera, the most popular destination wedding choice remains the All-Inclusive Resort. Below are the pros and cons for you to consider when deciding if this option is the right one for your wedding.

The Pros
It's Easy!
And what bride doesn't need a little extra ease when planning her wedding? Most resorts in Mexico have this down to art form by now, and pretty much all you have to do is show up. For the busy bride with limited time to scan the web, or live on Pinterest collecting inspiring and unique ideas, the All-Inclusive resort is a terrific option. You might find that your wedding package comes with a wedding photographer, coordinator, florist, DJ and minister. All you need to do is find the perfect beach wedding dress!
(We love, love, love the new trend towards beach wedding dresses like this one….the two-piece!)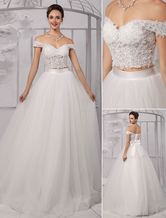 It's Affordable!
The average destination wedding will run you about $17,000 for 100 people, versus $25,000 for the same number of people at home. Most All-Inclusive wedding resorts in the Mayan Riviera will offer deals or discounts on the bride and groom's trip if a certain number of guests book, making your wedding even cheaper. For you and your guests, once you have paid for the vacation, that's it! There are no meals to buy or bar tabs to worry about, and considering the expense of food and liquor at a wedding back home, this can be huge savings in your wedding budget. Plus once your friends and family return home, you can stay and have your honeymoon, saving yourselves the cost of a whole other vacation!

It's a Party!
You are on holiday in Mexico with your nearest and dearest, generally speaking for a full week. Everyone is in vacation mode, and the food and drinks are 'free'. It's a great big PARTY! Instead of bringing all your loved ones together for a one-day celebration in your honor, you get a week-long experience, and everyone comes away with happy memories of your wedding.
Download our FREE Ultimate Guide To Getting Married In The Riviera Maya

The Cons
The Add-ons Can Add Up!
Make sure you ask important questions before choosing where to get married on the beach in the Riviera Maya. Many will entice you with what appear to be inexpensive destination wedding packages, but once you arrive you are given 'The Book' of upgrades to consider. Once they see what the base destination wedding package doesn't include, many Beach Brides will watch their budgets take a nose dive. 'Oh, you want the pretty flowers?' (cha-ching!) 'Oh, you want chairs for your guests?' (cha-ching!) 'Oh, you would like your wedding reception on the beach?' (cha-ching!). Be clear before you book!

That Conveyor Belt Feeling!
The destination beach bride is often one looking for something a little out of the ordinary, something non-traditional, a unique experience. You may be disappointed once you realize that you are only one of five weddings at your resort that day! Yes, the All-Inclusives have this down to an art, but often at the expense of feeling like you are just another number. And consider that there are only a certain number of Bridal or Honeymoon suites, so if you are counting on that potential upgrade, be prepared for disappointment!

Forget Privacy!
If you are the type of bride who values an intimate experience for her wedding, then the All-Inclusive resort is NOT for you! Be prepared to feel completely on display to the entire hotel, and to any rubber-neckers taking a slow stroll down the beach. A beautiful bride and a beautiful wedding celebration will draw attention from all around.

Out of Control!
Type A personalities be warned! If you have your own vision for how you want your destination wedding to go, and it does not exactly match up with the All-Inclusive Resort's packages, then be ready to adjust your expectations or pay the price! In Mexico, the All-Inclusive Resorts will provide you with a wedding planner, wedding photographer, florist, and minister, but the quality is not likely to meet the standards of most North American brides. If you want to hire your own vendors, you can do so, but the resorts will make it hard on you to the tune of Big fees. Learn more about outside vendor fees here, and what you can do about them.
Do you still need help weighing the pros and cons? The Knot has some helpful advice on deciding if an All-Inclusive is right for you. But whichever side of the fence you land on, to All-Inclusive or not to All-Inclusive, we can help with our recommendations. If you want to consider your off resort options, then here are our 5 Best destination wedding venues in the Riviera Maya!
Happy Planning!
***AND OF COURSE!!! If you are looking for the best Riviera Maya wedding photographers for your beach wedding, then contact us today! We are Fun In The Sun Weddings, best wedding photographers in Tulum, Playa del Carmen, and Cancun.
So let's hear it…have you decided if you will go All-Inclusive or not? We want to hear why in the comments below!
Download our FREE Ultimate Guide To Getting Married In The Riviera Maya
This post contains affiliate links, and I might earn a commission if you shop through them. Think of it as a tip for bringing you great content!