Are you are planning a destination wedding in Riviera Maya, Mexico?
Do you picture yourself getting married on the beach to a scene where the sun hangs low in the sky, casting a golden sparkle on the turquoise sea, while the warm ocean breeze caresses your skin? Can you picture your friends and family, tanned and teary-eyed, joyfully sharing the moment in the soft ivory sand around you?
Well, I hate to burst your bubble but there can be a lot of annoyances that come with a destination wedding on the beach, especially during our rainy season when the heat and humidity spike! Wedding day hiccups are inevitable, but when you plan ahead for what to wear in the tropics, you can minimize the bumps.
How will you cope with a sandstorm blowing your veil in your face, while your fiance squirms painfully from the torturous sweat pouring down his back?
How will you feel listening to a chorus of wedding guests slapping at mosquitoes while your bridesmaids' swimsuit-strap-sunburn steals the show in all your ceremony photos?
The good news is that you're reading this now, learning what to wear to your wedding in Cancun, and thus (hopefully!) preventing your dream destination wedding from turning dire!

How to choose the perfect beach wedding dress?
Okay, I get it. The Cinderella ball gown looks so glamorous against a Caribbean backdrop, right?
But you know what looks even more captivating? A bride who is comfortable and happy.
Does lugging layers of crinoline and taffeta down a scorching beach, scooping up sand and beach debris while racing sweatily to catch your wedding photos sound like fun?
You already know that it's hot in Mexico, but once the rainy season starts then the humidity spikes and the real heat kicks in! You'd better believe you are going to be scorching in layers of fluffy white fabric!
What kind of beach wedding dress (and bridesmaids dresses, for that matter) should you wear?
When shopping for the perfect beach wedding dresses, stick with a lightweight material made from natural, breathable fibers. Be cautious of too many delicate details like beadwork and lace. Think flowy, slinky, sexy and you can't go wrong.

What should the groom wear to a beach wedding?
Repeat after me: No Penguin Suits! No. Penguin. Suits!
The Knot offers great advice for attire to keep the guys comfortable at outdoor summer weddings, but in a nutshell traditional layered suits are simply a no-no in tropical climates. Please be considerate of the groom and groomsmen! He may agree to wear a 3-piece suit or tuxedo because he loves you, but do you really want the boys suffering in the sticky heat and soupy humidity of the rainy season in Riviera Maya?
What should the boys wear instead?
Choose lightweight, natural fibers in light colors. A beach wedding is the perfect setting to ditch the tie and cufflinks and opt instead for linen suits, or colorful short-sleeved shirts with Bermuda shorts. Then you can start off your life as a married couple on a good note.

What kind of bridal shoes are best for a beach wedding?
Ever tried to stand in the sand in high heels? The two do not mix, so it's best to leave the heels for the honeymoon suite.
You can opt for a pretty pair of flat, open-toed sandals. But please, please, please no flip flops! Unless, of course, you want to spend your wedding day with a constant supply of sand up under your dress? Yeah, no bueno.
What are the perfect beach bridal shoes?
Easy answer: None! Go barefoot! With so many gorgeous options for barefoot sandals these days, why wouldn't you?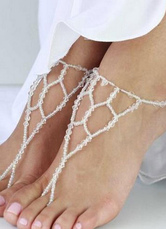 Should you wear a veil at a beach wedding?
Okay, admittedly as professional wedding photographers, we love the creative ops we get when the bride wears a veil.
But! Here is what you need to think about when it comes to veils on the beach;
It is often really windy at the beach. Not "gentle ocean breeze" windy, but rather "rip your veil off your head during your wedding ceremony" windy, or "tangling around your torso during photos" windy.
To veil or not to veil?
We say go for it if the veil is on the shorter side, and with the understanding that you may end up just ditching it completely.

Download our FREE Ultimate Guide To Getting Married In The Riviera Maya
Are mosquitos a problem at destination weddings in Cancun?
Yes and yes.
The annoying little buggers are worse late in the day, which typically coincides with your ceremony, all your wedding photos, your cocktail hour and the start of your reception. So wear insect repellent and keep it in your beach wedding emergency kit!
Do your guests a solid by providing them with repellent as well. Add it to your destination wedding welcome bags, and make it readily available at cocktail hour.

When do you need to wear sunscreen in Cancun?
Newsflash: You are most likely going to get a sunburn in Mexico if you don't wear sunscreen between 9 am and 5 pm, and during our rainy season, the rays are even stronger.
Obviously, you know to lather on the SPF if you are getting married on the beach, right?
But even more important is to use a ton of sunscreen in those wild days leading up to the Big Event. As professional wedding photographers in Riviera Maya, we have seen more than our fair share of the following:
The bride with tan lines that aren't hidden by her dress.
The bridesmaid with an awful peeling sunburn in her strapless dress.
The groom with a sunglasses burn on his face.
These are not the quick, easy fixes in Photoshop that many people assume, and your photographer may charge you for this specialty service.
So pack your sunscreen, wear it, and reapply often!
(We recommend tossing these cute personalized sunscreens into your guests' welcome bags to encourage them doing so as well!)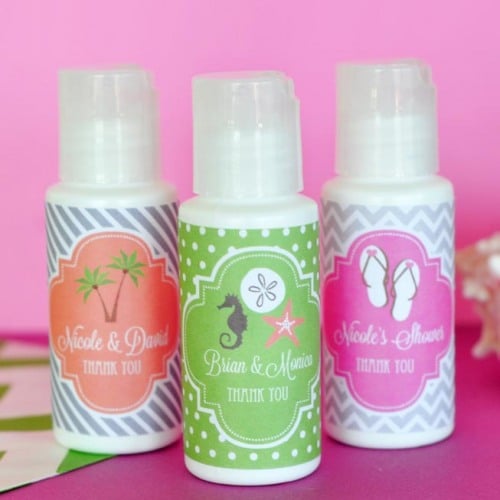 What is the little-known item to wear at a beach wedding in Cancun?
Want to know which tool is going to be your best friend at your destination wedding in Riviera Maya?
Baby powder.
The uses for baby powder are aplenty and make it an invaluable weapon in your beach wedding emergency kit.
Avoid dreaded 'Swamp Crotch' by sprinkling some between your thighs.
Sprinkle some on legs and arms to avoid the sand sticking to you on the beach.
Apply to your underarms before applying your deodorant to help manage sweat.
Set your makeup with baby powder!
Baby powder will help you look picture perfect, and poised under pressure. Never let them see you sweat…especially during your big moment!
Wedding day annoyances are inevitable, especially when it's hot and humid during the rainy season in the tropics. But! Now you are armed and ready with what to wear for your wedding in Cancun.
We have shot hundreds of weddings, and besides taking gorgeous photos, we know what it takes to make your Big Day perfect, so contact us today! We are Fun In The Sun Weddings, for the best destination wedding photography in the Riviera Maya, Mexico.
Let's hear it. What tip did you find most helpful for your destination wedding in Cancun? Leave your comments below!
Download our FREE Ultimate Guide To Getting Married In The Riviera Maya
*This article contains affiliate links and may earn us a commission if you shop. Think of it as a tip for bringing you great content!