Are you planning to celebrate a milestone anniversary in Riviera Maya, Mexico?
Have you been thinking about renewing your vows while you are on your holiday?
When you start researching a vow renewal in Playa del Carmen, Mexico, the whole process can feel pretty daunting. How are you going to pull this together from another country, and what is your best option for making this adventure unique and memorable?
Lucky for you, you've found us! We are vow renewal specialists in Playa del Carmen and are used to being asked all those questions you are wondering about, including 'What's included in Playa del Carmen vow renewal packages?'
Unfortunately, it's not a simple answer because you have so many great options available to choose from, but of course, you also need to understand the particular limitations in Mexico.
But not to worry! We are going to help you find your way to a perfect vow renewal as quickly and easily as possible.
Let's start at the very beginning. Much of your decision depends on where you will be staying in Playa del Carmen.
All-inclusive resort vow renewal packages
Are you holidaying at an all-inclusive resort, and think this might be the best location to renew your vows?
Destination weddings are big business in the Riviera Maya. The resorts are fully equipped to handle your vow renewal, no matter the size of your guest list.
The upside: If you are looking for a 'second wedding' experience with a group of loved ones, then this is an easy way to go. Most vow renewal packages give you the option to have chairs, an arch and a bouquet to make a beautiful beachfront ceremony. Then you can follow it up with a celebratory cocktail party, and all without leaving the resort.
The downside: Before you book, make sure you are familiar with your resort's outside vendor policy. Although they may offer easy, ready-made packages that look really pretty, you will be limited to using their employees, or it will cost you.
For example, if you want to hire a Playa del Carmen photographer who's style you love, then the resort will charge you a penalty for that vendor to come onsite. These outside vendor fees are a dirty practice and carry an additional cost.
Off-resort vow renewal packages
Are you staying in a private home or a boutique hotel in Playa del Carmen?
Or do you simply want the freedom to create an experience that is different from the cookie-cutter packages your resort offers?
There are plenty of other locations to have a vow renewal in the Riviera Maya!
The upside: The sky is the limit for vow renewal ideas when you go off the resort. You can make it uniquely yours while avoiding unnecessary resort fees in the process. The only limit is your imagination…and of course, your budget.
The downside: Going off the resort complicates having wedding décor features like chairs or an arch unless you rent a private space. All beaches in Mexico are public, and setting up an elaborate beach wedding on public property requires permits.
However, not to worry. If you are picturing a 'second wedding' type of vow renewal, there are plenty of excellent private venues available at reasonable rates. (More on this below)
If having an off-resort vow renewal is your choice, then let's go further down the rabbit hole and explore your vision. Next up are the different kinds of venue options available to you.
Beach vow renewal ceremonies
Does your vision of saying "I do, again" include having the feeling of warm sand between your toes, as you stand beside the twinkling turquoise Caribbean sea?
Then Playa del Carmen is the best place for a vow renewal!
The upside: With so many miles of stunning beaches in the Riviera Maya, it is super easy to walk out to the water's edge and have an intimate vow renewal ceremony on the beach. If you want to keep things simple, this is about as effortless as it gets! And sometimes it is the simple things in life that are the most special.
The downside: As mentioned above, all beaches in Mexico are public, so decor and privacy are tricky.
Firstly, privacy is never guaranteed on any beach here, not even at a resort wedding. To minimize Looky-Loos, you should schedule your ceremony in the morning when most tourists are still sipping their first cup of coffee.
Secondly, if your vision includes an arch or chairs for your guests, then a public access beach is not going to be the right location for you. Furniture means permits, and that translates to big hassles in this country.
Private vow renewal ceremony venues
Are you hoping for a more unique vow renewal venue than the beach or want one that guarantees your privacy?
Playa del Carmen has loads of interesting and fun options available for you!
How do you feel about holding your intimate vow renewal ceremony in a jungle cenote, on a boat at sea, or at a beachfront villa?
The upside: Privacy! And the opportunity to create a unique and exceptional experience.
And don't worry, we will help you find the perfect venue! If need be, we will recommend a wedding coordinator to help you plan the finer details. We work with the best wedding vendors in the industry and can recommend fabulous local professionals; hair & makeup, flowers, transportation, and everything in between.
The downside: Money. Prepare to pay for the perks of privacy. Villas require you rent them by the day, not the hour. Cenotes have an entrance fee, as well as a steep rate to close to the general public for a few hours. And expect that a privately chartered boat tour won't be cheap.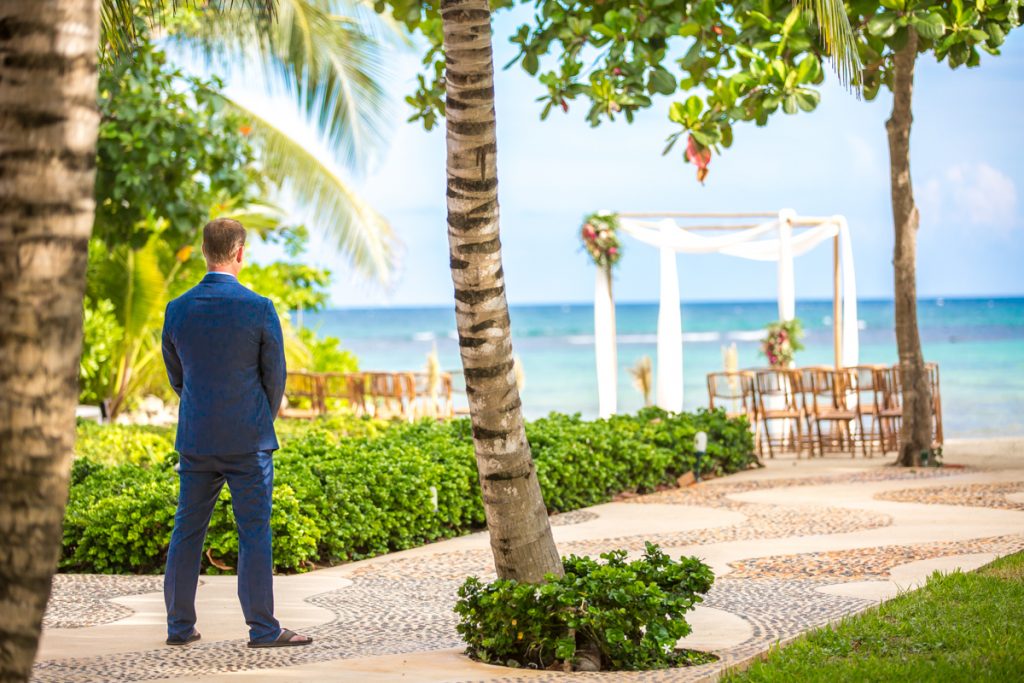 Alright, now you should have a sense of where you want to hold your ceremony. Our next step is to explore what kind of vow renewal ceremony you want.
Would you consider yourselves as more Traditionalists or Spiritual people? There are a variety of wedding ceremony officiants in the Riviera Maya to fit your personal style.
Traditional vow renewal officiants
Does your vision of reaffirming your commitment to one another involve a minister reciting an inspirational message, followed by you doing the same?
Then a traditional, symbolic wedding ceremony officiant is who you need.
The upside: You can choose pretty much anybody you want to conduct the ceremony for you. Since there are no legal hoops to jump through with symbolic ceremonies in Mexico, you can use any officiant you click with.
The downside: Finding somebody who speaks great, or even decent English to conduct your ceremony is tricky.
Luckily, our vow renewal package includes Me, Yours Truly, as your wedding officiant! I speak perfect English, create a unique ceremony tailored specifically for you, and love, love, LOVE officiating vow renewals! (In fact, I cry a little every time.)
Shaman vow renewal ceremonies
You will be visiting the epicenter of Mayan civilization. This is an area pulsing with spiritual energy and is one of the many reasons people are drawn to this part of Mexico. Why not honor that with a vow renewal experience that is truly unique?
You can employ a genuine Mayan Shaman for a variety of different spiritual ceremonies;
Honoring the 4 elements
The union of souls
Cacao ceremony
A family unity ceremony
The upside: This is an unforgettable experience! If you are spiritual people, then your union will be blessed on a deeper level of consciousness. The Shaman will conduct various symbolic rituals and blessings connecting you with nature and the spirit world.
You can tailor the ceremony with loads of extra options to contribute to your personal experience, like dancers, decor and alters.
The downside: You will need to budget for a private venue to conduct this type of ceremony. These ceremonies are more lengthy than a traditional ceremony and include alters with decor. (See ceremony locations above)
Also, keep in mind that Shamans are not cheap. Expect your investment to start at 700 USD.
We recommend a jungle cenote or a beach club for a vow renewal ceremony with a Shaman.
Interested in a Riviera Maya Shaman ceremony? Contact us now and we will connect you with the most reputable company to bring this vision to life.
We hope that you have a much better picture now of how to do your vow renewal. The last item on our 'To Do' list is to decide who will capture the special memories for you.
Should you hire a Playa del Carmen wedding photographer?
Should you hire a local professional to take pictures of this moment, or just trust one of your family members to do the job?
We appreciate that it seems easier to have your Uncle Dan bring down his fancy camera to catch all the magic. After all, he takes pictures at all your family events, and you don't even know how to find the best photographer for a wedding in Mexico.
The upside: You will save money with Uncle Dan.
The downside: You will miss out on top quality stunning images to cherish from your vow renewal in Playa del Carmen. Only experienced professional Riviera Maya photographers understand the unique elements of this area, the quality of light at different times of the day, and how to get magical pictures even when Mother Nature doesn't cooperate.
And the biggest downside is that you will miss the chance to work with us!
We are the best vow renewal photographers in Playa del Carmen, and not just because we capture beautiful moments, deliver an exceptional experience, and are super fun people.
No, it's more than that.
Fun In The Sun Weddings are the best because we help organize your vow renewal for you. Your hand will be held throughout the whole process. Our goal is to keep this easy so you can go back to more important things than searching for the best Playa del Carmen vow renewal packages.
Ready to get started? Contact us here now! We are Fun In The Sun Weddings, for the best vow renewal photography in Riviera Maya, Mexico.
So, let's hear it. Now that you know your options, how do YOU want to renew your vows?
Share them with us below.
Want to learn more?